Longtime Police Chief Bobby Burgess dies at 83
6/13/2014, 3:48 p.m.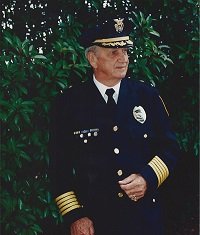 DeKalb County officials joined family and friends on June 10 at the Avondale First Baptist Church to eulogize Robert "Bobby" Theron Burgess, who was the county's longest-serving police chief.
The Stone Mountain native, who retired from the county in 2001 after 22 years as police chief, died June 6 of natural causes. He was 83.
Burgess was buried at Melwood Cemetery in Stone Mountain.
He joined the Police Department in 1957 as a patrolman and was known for being tough but compassionate with his officers and for his extensive knowledge of his family's long history in DeKalb.
DeKalb police Lt. Tom Reiner, who knew Burgess for more than 25 years, said that when Burgess entered public service, he joined the family business.
"Generations of Burgess men were in the DeKalb County government and he was really proud of that – since the late 1800s – and he continued the tradition," Reiner said.
It is the longest stretch of time a DeKalb police chief has served, Reiner said.
Burgess' son, Bobby Jr., said his father had "an extreme love for DeKalb County" and its history and could tell their family's entire history since they came to DeKalb in the early 1800s.
"He knew almost every detail of the last 80 years of DeKalb," his son said.
DeKalb interim CEO Lee May called Burgess' long service to the county an inspiration.
"Bobby Burgess was a good man whose life was guided by a deep and abiding faith and a commitment to public service," he said. "He meant a great deal to us all and served as an inspiration with his ongoing efforts to give back and improve his community, about which he cared so deeply."
DeKalb Commissioner Larry Johnson, who is the BOC's presiding officer, said Burgess' top priority was the safety of the people.
"Throughout his years of service, he was always full of energy and willing to do whatever was needed to keep DeKalb residents safe," Johnson said. "He was a tremendous community servant who will be sorely missed."
Former CEO Liane Levitan, who first met Burgess in 1973, called him a natural leader who ran a tight ship.
"He always fought to ensure that DeKalb County had the best-equipped police force," Levitan said. "My thoughts and prayers remain with his family during this difficult time."
Burgess also is survived by his wife, Shirley Burgess; sons Joel and David; stepdaughters, Sandy and Terry Pendley; stepson Robby Lanier; seven grandchildren; and three great-grandchildren.