Metro jails begin fight against gangs
6/13/2014, 5:39 p.m.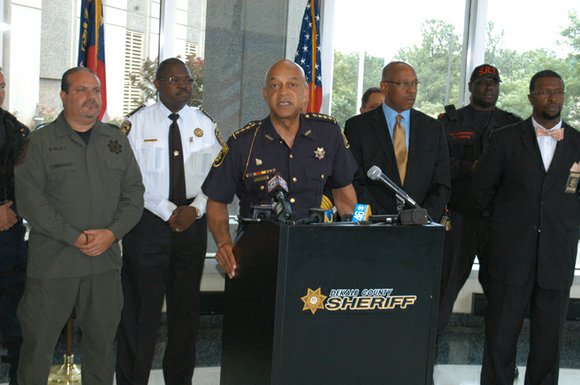 DeKalb and three other metro counties have joined forces to crack down on a growing threat of gang-related crime in their jails.
At a June 5 news conference, DeKalb Sheriff Jeff Mann and police and sheriffs from Fulton, Gwinnett and Clayton counties announced a coordinated series of jail inmate shakedowns and intensive intelligence to root out gang plots and other illegal activity behind bars that threaten the safety of jail employees and lead to violent crimes in the community.
"Gang activity on the streets of our community in DeKalb County and across the metro area is at an all-time high and it's increasing," Mann said.
The first shakedowns at the DeKalb lockup took place without incident while the news conference was in progress.
Mann said that officers went throughout the jail attempting to identify potential gang members who are housed in the DeKalb Jail and to locate any contraband in the facility.
Frank Woods, a Gwinnett sheriff's captain, said intelligence is revealing that gang members are becoming more savvy.
"Frequently gangs use the jails to grow their numbers," Woods said. "They get younger members and they get them into the gang activity."
Woods said the names of some gangs come up frequently in jail incidents.
"The Bloods gang is a large issue in the metro area, the Gangster Disciples is a large problem. In DeKalb and other counties, you've got Sex Money Murder," he said. "And you have the Aryan Brotherhood, which can be very large in state prison systems as well."
Woods said police also have noticed gangs working with each other to make money. He said they view law enforcement and people in the community as the enemy.
After investigators identify gangs in the jail system, Mann said they will share information among local jails and with state prisons to cut gang activity. He said teams have been assigned to monitor communications between inmates and the outside world more closely.