YMCA agreement failed to pass Board of Commissioners
DECATUR — A controversial public-private agreement that would have allowed DeKalb County to purchase the South DeKalb YMCA for $4.95 million failed to get a majority vote from the DeKalb Board of Commissioners on June 10 and will have to come back before them again.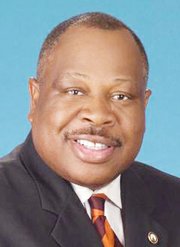 Commissioners Larry Johnson and Stan Watson, whose districts 3 and 7 include the YMCA, want to use the rest of their districts' green space land acquisition funds and $4 million of countywide acquisition money from the 2001 and 2006 Park Bond Funds to purchase the 18-acre property and lease it back to the Metropolitan YMCA for $1 a year for 50 years.
The YMCA says it will turn around and invest the $4.95 million back into expanding and renovating the facility.
After passionate statements from Johnson and Watson supporting the deal and emotional comments from Commissioners Jeff Rader and Kathie Gannon opposing the agreement, Rader switched his no vote to abstention, then recused himself so that the vote would not be tied.
"I do not want it to be decided by someone who is not serving on the commission," he said.
Interim CEO Lee May had earlier broken the tie vote on Rader's motion to defer the item to January 2015. May, who is the District 5 commissioner, cannot serve on the Board of Commissioners while he is interim CEO, but he is called in to break ties when the six remaining commissioners are deadlocked.
Watson, who made the motion to approve the agreement, said it was legally sound and that they had 11 meetings in and around the county.
"We have done a tremendous job to make sure all the voices are heard," he said. "We should go ahead and approve this and move on."
Watson said that they had talked about health disparities and it was the right thing to do.
May said that the same board members who were opposing the South DeKalb Y agreement voted for a similar one for the Wade Walker Park.
"This is an opportunity to increase the service level that the YMCA provides in a community that needs it," he said.
But both Gannon, the District 6 commissioner, and Rader, who represents District 2, said that there are greater needs across the county and if they are going to spend green space money on renovations, the Hamilton Recreation Center in Scottdale, the Lucious Sanders Center in Lithonia and the Tucker Center were more deserving.
"I invite members of the YMCA's board to visit Hamilton Rec Center," Gannon said. "It will make you cry to see where those kids have to go. It's an embarrassment."
Gannon said she is not against the YMCA, but that green space funds should not be used to renovate a nonprofit institution's facility.
Rader said the dollars should be spent on land acquisition.
"We are converting land acquisition money into renovations for a facility," he said. "If we can do that, why can't we do that at Hamilton, at Lucious Sanders? Why can't we do that at Mason Mill? Why can't we do that at Tucker? Those facilities are greatly lacking. When you compare them with the South DeKalb YMCA, you can see that they are clearly less attractive."
He said the terms of the agreement were not presented to anyone in the public before it came on the BOC's agenda in April.
"This agreement is new and it obviously needs more work," he said.