Funk Brothers' impact on Motown explored
6/20/2014, 7:20 a.m.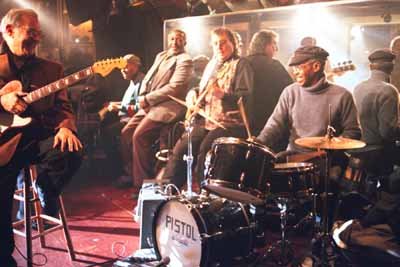 The story of the Funk Brothers, who backed up many of Motown's greatest hits between 1959 and 1972, will be screened June 27 in the documentary "Standing in the Shadows of Motown" at the Toco Hill-Avis G. Williams Library in Decatur.
The two-hour film, released in 2002, explores the lives of the unknown and largely unheralded musicians who helped shaped the sound of Motown music over 14 years.
The lowly session men, recruited from the ranks of the Deep South's blues and jazz musicians, supplied the sound for the songs of Motown. The string of No. 1 hits on which they worked included "My Girl," "Baby Love," "I Heard It Through the Grapevine," and "Dancing in the Streets."
They sang background on more hits than the Beach Boys, the Rolling Stones, the Beatles, and Elvis Presley combined. That feat was largely unheralded until 41 years later in 2000 when they were reunited in Detroit.
"Standing in the Shadows of Motown," directed by Paul Justman, tells their saga through archival footage, still photos, narration, interviews, re-creation scenes, 20 Motown master tracks, and 12 new live performances of Motown classics with the Funk Brothers backing up Chaka Khan, Ben Harper, Bootsy Collins, Montell Jordan, Meshell Ndegeocello, Joan Osborne, and Gerald Levert.
Critics say Justman's revelatory documentary is a long-overdue celebration of unsung musical heroes whose backing gave Motown and its stars their unique appeal. While Marvin Gaye, Smokey Robinson, the Supremes and Stevie Wonder were household names, no one had heard of the likes of Richard "Pistol" Allen, Eddie "Bongo" Brown, bassist extraordinaire James Jamerson, and white guitarist Bob Babbit.
Surviving brothers reminisce about what it was like to play on million-selling records but have to augment sessions with gigs to make ends meet.
Tim Evans, writing for Sky Movies, said the cheerful, down-to-earth bunch comes across as a tightknit family cutting across racial divides.
"It's a gentle, touching, long-overdue tribute to these men, whose modesty appears ill-placed when their roster of hits tumbles down the screen in the closing credits," he said.
The screening starts at 1:30 p.m.
The library is at 1282 McConnell Drive. For more information, visit www.dekalblibrary.org or call 404-679-4404.