Evicted homeowner, Occupy Atlanta supporters facing jail time
Ken Watts | 6/20/2014, 6:49 a.m.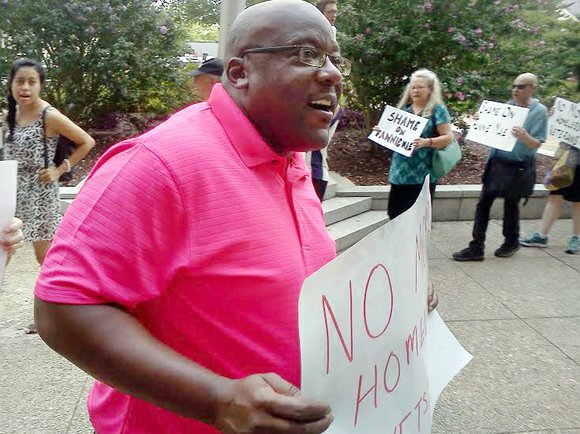 An evicted disabled Army combat veteran and three housing rights activists facing criminal trespass and obstruction of the law charges for occupying a foreclosed home in Avondale Estates will get a jury trial starting Aug. 6.
Mark Harris, the evicted homeowner who lived in the house for 18 years, and Tim Franzen of Atlanta, Mariam Asad and Daniel Hanley are facing 12 to 24 months in jail over a protest.
They lost their bid on June 16 to get the case dismissed.
DeKalb State Court Judge Dax Lopez ruled that the case will proceed.
Attorney Mawuli Mel Davis, who is defending the four, had argued that protesters were not breaking the law when they staged their protest at the house on 1164 Dunwick Drive on Aug. 9, 2013.
Harris, 52, a veteran of Operation Desert Storm in Iraq, had lived in the house with his 75-year-old mother, Carol Hinton, and was her caregiver. Both were evicted after a foreclosure, but supporters set up tents and spent the night in the front yard with Harris.
DeKalb marshals and Avondale Estates Police returned the next afternoon and warned the protesters that they had 30 minutes to leave. Four people, including Harris, refused to do so and were arrested. Occupy posted a video of the incident at https://www.youtube.com/watch?v=qkbxgi1YS3w.
Davis, a partner in the Decatur-based Davis Bozeman Law Firm, said Fannie Mae, the holder of the Harris mortgage, is owned by the federal government.
"The demonstrators had a First Amendment right to voice their concerns there because it was owned by the government and public property," he said.
Lopez rejected that argument, saying that since the federal conservancy was not permanent, Fannie Mae could not be considered a government entity.
While Davis argues his First Amendment case, about 25 Occupy Our Homes members picketed the courthouse outside with signs that read "Fannie Mae Is the Real Criminal" and "No More Homeless Veterans."

Defense lawyers called Candy Lasher, Fannie Mae's regional vice president, as a witness.
Lasher testified that she was aware of Harris' eviction because of Occupy demonstrations in front of her house in Atlanta but did not know the details of his case.
Harris told CrossRoadsNews on June 17 that he has made payments of $2,100 a month for 14 years and never missed a payment until he was laid off from his job as a driver for UPS in 2010.
He says he continued to make sporadic payments until June 2012, when he was laid off again. His house was foreclosed in October 2013.
Harris says he started negotiations with Fannie Mae for a loan modification in November 2012 and made a good faith payment of $2,800. He said the mortgage lender offered him two options: Either sign a two-year lease for the home on which he had been making payments for 18 years or take $1,500 to move out of the house.
He says he refused both offers and filed a wrongful foreclosure lawsuit, which he lost.
He was in the process of appealing the lawsuit when he was evicted.
Throughout the negotiations, Harris says Fannie Mae added so many costs to his mortgage that the amount he owes is now much higher than the property's worth.
Fannie Mae did not respond to requests for comments at press time Thursday.
Harris, who says he suffers from post-traumatic stress disorder, served with the Army's 335th Chemical Detachment during the first Gulf War in the early 1990s. His unit was specially trained to protect U.S. troops from the effects of chemical weapons attacks.
He said the battle over his house reminds him of war.
"I feel like I'm in combat," he said. "I feel like I'm in the same kind of defensive posture that you would be in if you were in a combat zone. I feel like unexpected things are going to happen that I can't control."
Since the eviction, Harris and his mother have been living with relatives.