Georgia Piedmont breaks ground on transit training expansion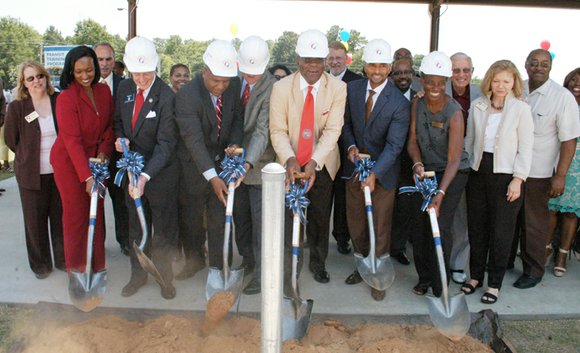 By 2016, Georgia Piedmont Technical College could be graduating 2,000 students from its Transit Training Facility in Lithonia.
Dr. Jabari Simama, the college's president, said Thursday that they will more than triple the 600 students now being trained at the facility with the help of a $3 million grant from the U.S. Department of Labor.
He said the college landed the grant because there is a shortage of transit workers to fill all the open positions in metro Atlanta and the region.
"We had a 13-acre facility and a track record with our commercial driving program," he said. "That is why we got the grant."
The Trade Adjustment Assistance Community College and Career Training grant will fund expansion of the college's Regional Transit Training Facility on Marbut Road.
Simama said they're adding 1,000 square feet to an existing 3,000-square-foot facility.He broke ground on the expansion June 19 with the help of MARTA CEO Keith Parker, Lithonia Mayor Deborah Jackson, GDOT and transit officials, other stakeholders, and community and business leaders.
Simama said the facility will offer training for bus drivers and supervisors to MARTA, its largest partner, and to the Cobb and Gwinnett transit systems.
"From here to Savannah, we are the only accredited college offering this training," he said.
Parker said the program is extremely important to MARTA.
"About 700 of our current employees have come through this training," he said at the ground-breaking ceremony. "Another 20 are scheduled to start next week. Right now we have several hundred positions open that we're looking to fill. Everything from bus operators, rail mechanics, station agents, you name it we're looking to fill it."
Construction is expected to be completed by May 2015 and the grant requires the college to train at least 380 students by 2016.
"We expect to exceed that number," Simama said Thursday. "We plan to train displaced, and under-employed workers, and we will be aggressively recruiting displaced workers who are interested in learning to drive and repair buses and work in transit management."
The industry-recognized training program will prepare students for careers in Transportation Management, Capital Project Development & Planning, Vehicle Maintenance, and Bus and Rail Operations with annual earning potential of $41,000 to $86,000 a year.
The college says the new Transit Training Facility will offer students direct, hands-on instruction for the mobility/light vehicle, bus maintenance technician programs, transit electronics and electrical power equipment technician programs.
Diplomas can be completed in one to two years and certificates in one to two semesters.
Simama said the next class starts on Aug. 20. "Right now, if we can get them, we can accommodate 300 students for the Aug. 20 class."
He said they also will be seeking trained technicians to be instructors.
Jackson, Lithonia's mayor, said that even though the facility is located just outside her city's limits, it will still be accessible to its residents.
"It will provide an opportunity to increase their job skills level and enter into the field of transportation, which is going to be critical to the growth of not just DeKalb County but the entire state," Jackson said.
Simama said the expansion will enable the college to train more minority, women and nontraditional students for transit careers.
"This is of tremendous significance," he said. "We can do tremendous outreach to minority and women."
Ken Watts contributed to this story.