Ready Ga. mobile app upgraded
6/20/2014, 6 a.m.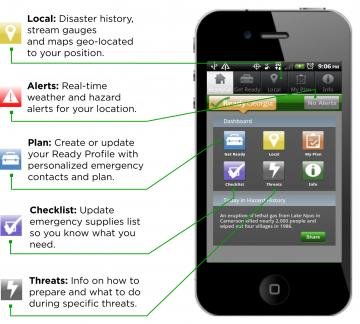 The Ready Georgia mobile app has been upgraded for residents who want to stay informed during emergencies.
Upgrading the app was one of the recommendations of the governor's Severe Winter Weather Warning and Preparedness Taskforce.
State officials unveiled the improved app on June 16.
Gov. Nathan Deal said that when severe weather hit the state this year, he called the state's Emergency Management Agency to upgrade the app with shelter information, alternative transportation routes and other emergency-related information.
"The Ready Georgia app already served as a good resource for Georgians, but now that its capabilities have been expanded, it will keep us better informed when emergency situations arise," he said.
The 2014 hurricane season started June 1. The upgraded app features geo-targeted severe weather and emergency alerts to notify users' phones before disasters strike, traffic information, and a live traffic map with incident reports from the Georgia Department of Transportation.
An enhanced shelters map displays the location of open Red Cross shelters and approved "good Samaritan" shelters. It also provides directions from the users' current location.
The app allows users to keep checklists of emergency supplies, create customized disaster plans for their families, and check flood risk levels and historical tornado data near their location. It has contact information for local emergency management agencies.
Charley English, GEMA/Homeland Security director, said the app is an important tool to communicate with Georgians and help them stay informed.
"We are really pleased with the new features that we have added as part of this upgrade," he said.
The Ready Georgia mobile app is available at www.ready.ga.gov/mobileapp. For more information, visit www.ready.ga.gov.