CrossRoadsNews launches local digital marketing division
Ken Watts | 3/5/2014, 8:27 p.m.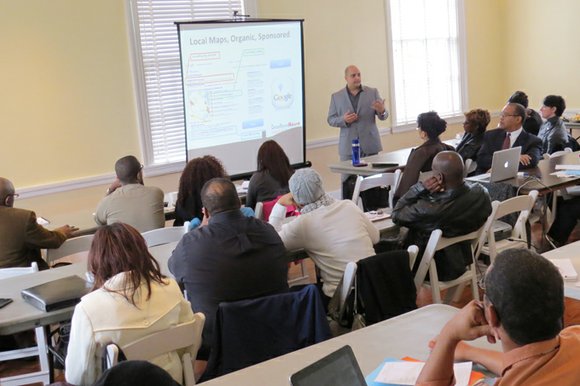 DECATUR — Small business owners who need help establishing a presence on the Internet, or cementing their competitive advantage in the digital marketplace can now turn to a familiar source – CrossRoadsNews Inc.
The Decatur-based publishing company unveiled CrossRoadsNews Digital Solutions on March 4, at a digital marketing workshop presented to 30 business owners at the historic Old Courthouse on the Square in downtown Decatur.
The new division offers small- and medium-sized businesses a range of mobile and online services such as website design and management, search engine optimization and marketing, web video production, reputation management, and social media and blog management.

Jennifer Parker, CEO of Cross­Roads­News, said the digital division offers another important way for the company to serve the business community.
"We have been connecting businesses to customers since 1995," Parker said. "We have been a trusted source for our advertising customers and our readers. We are now stepping up to help businesses in our community to become more competitive using the Internet."
Curtis Parker, the company's vice president of digital operations, said print, online, and social media can all work together for the common goal of reaching customers wherever they are.
"We're offering these new digital solutions because we know that many of our advertisers want help in that area," he said. "It's in our best interest that they stay in business and continue using us as their marketing partners."
Consultant Joe Mohay of Boston-based Integrated Digital Strategies, who led the free "Integrating Local Internet Marketing for Your Business" workshop on March 4, said that integrated marketing strategies give local businesses an effective way to find new customers.
"People are using mobile devices to find search engines and look for local information, local business and local services," he said. "Business owners need to be where their customers are."
He said potential customers are accessing search engines from their smartphones and tablets, and businesses that can be found easily during local searches are likely to win new business.
Patrick Austin, owner of Austin Therapeutic Services, an Atlanta-based holistic health and wellness center, said the three-hour workshop was awesome.
"I am extremely excited about branding and building my business via digital media," he said.
Ronnie Stewart, owner of Ambassador Beverage Company in downtown Atlanta, said he learned a lot.
"This was a great deal, for free," he said.
For more information, email Curtis Parker at cparker@crossroadsnews.com.