Bernice King to surrender father's Bible and Nobel medal
Ken Watts | 3/7/2014, 6 a.m.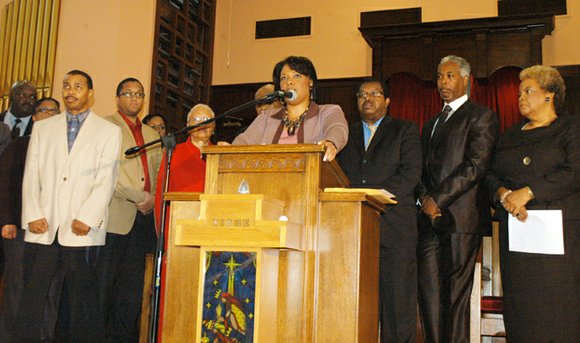 Bernice King, the daughter of civil rights icon Dr. Martin Luther King Jr., said Thursday that she will surrender her father's Bible and Nobel Peace Prize medal to Fulton County Superior Court on March 10.
Judge Robert C.I. McBurney said the items will stay in the court's custody in a safe deposit box until it decides whether her brothers Martin Luther King III and Dexter King should be allowed to sell them.
Bernice King serves as CEO of the King Center in Atlanta and had the items in her possession. Her brothers filed suit on Jan. 31 asking the court to force her to relinquish the items.
The three are expected to meet in court on Sept. 29.
At a March 7 news conference in the sanctuary of Historic Ebenezer Baptist Church where both her father and grandfather were pastors in the 1960s, King said that some people have suggested that she not turn over "these sacred items" and risk going to jail.
"I must say that after a great deal of dialogue, discussion, deep soul-searching and much prayer, I have been led by the Holy Spirit to comply with the court order," she said. "This is not a setback, but an opportunity for my brothers to do what their conscience says is right."
King called the items "sacred artifacts" of the 20th century's most important social movement and are not for sale and said she had already "won the moral high ground" in the legal dispute with her brothers.
Her father was awarded the Nobel Peace Prize in 1964 on behalf of the civil rights movement. He was assassinated four years later in Memphis.
On his travels across the South during the fight for civil rights for African-Americans, her father took the Bible with him. President Barack Obama used it on Jan. 21, 2013, at his public inauguration for his second term in office.
She was accompanied Thursday by about 20 community leaders who spoke in her support. The group included Southern Christian Leadership Conference activist the Rev. Willie Bolden, Hosea Feed the Hungry CEO Elisabeth Omilami and Atlanta City Council President Caesar Mitchell.
Bolden, who worked alongside Dr. King, said that when he thinks about the Nobel Peace Prize and King's Bible being sold, it makes his body cringe.
"Over 50 years ago, I was invited to Atlanta to meet with Dr. King about becoming part of SCLC," he said. "After a 45-minute interview, he pulled two books off his desk – the Bible and one by Gandhi. He said, 'Bolden, we gonna take these two books and take this country from upside down to right side up and I want you to be a part of it.' Now I can't sit here and watch them be sold."
McBurney issued the order on Feb. 19 directing that the artifacts be placed in a safe deposit box in the name of King Inc., which controls the intellectual property rights for the King estate.
King and her brothers are the sole board members of the corporation that controls the intellectual property rights.
The family dispute became public in January after the board voted 2-1 to sell the medal and Bible. Bernice King, who had personal possession of the items, voted against her brothers.
Dexter King and Martin Luther King III have not commented publicly about the case.
King said she has not spoken with her brothers since the judge ordered her to turn over the items, but she urged them to call another vote on selling the items.
"To my two brothers, whom I love and respect greatly, I implore you to consider the magnitude of this moment in history and how you want your individual legacies to be defined," she said.