Many incumbent Democrats in South DeKalb are unopposed
3/7/2014, 6 a.m.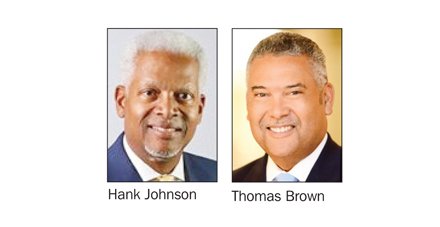 Hours away from the end of qualifying for the May 20 primary elections, many South DeKalb Democratic incumbents seem headed back into office unopposed.
Only 4th District U.S. Rep. Hank Johnson, state Reps. Michele Henson in District 86 and Dee Dawkins Haigler in District 91, and state Sen. Gloria Butler in District 55 had challengers through close of business on Thursday.
Qualifying was scheduled to end at noon on March 7.
As expected, former DeKalb Sheriff Thomas Brown qualified to challenge Johnson, who is seeking a fifth term.
If no Republican qualifies on Friday, the winner of the Democratic primary will take the seat.
Henson is being opposed by Clarkston homemaker Jacqueline Adams, Dawkins Haigler, a minister/consultant who ran unopposed in her three other re-election campaigns, will face businesswoman Diane Adoma of Conyers. Butler faces Mark Anthony Williams, an educator from Snellville.
In the crowded race to replace U.S. Sen. Saxby Chambliss, who is retiring, longtime Decatur resident Steen "News Lady" Miles qualified on Thursday. She will face nonprofit executive Michelle Nunn of Atlanta; Branko "Dr. Rad" Radulovacki, a physician, also of Atlanta; and Todd Anthony Robinson, an educator from Columbus.
Nunn, who has amassed a war chest of more than $3 million, is the daughter of former Sen. Sam Nunn.
Seven Republicans are seeking their party's nomination for the November race. They are Atlanta attorney Arthur "Art" Gardner; Atlanta businessman David Perdue; U.S. Rep. J.H. "Jack" Kingston of Savannah; J.P. "Phil" Gingrey, a Marietta physician; Karen Handel, owner of Alpharetta-based Handel Strategy Group; Paul Collins Broun, an Athens physician; and Derrick Grayson of Redan, a senior network engineer.
DeKalb County Commission
In the three County Commission seats up for grabs, District 7 Commissioner Stan Watson will face Gregory Adams, a police officer who lives in Clarkston.
Incumbents Larry Johnson, District 3, and Jeff Rader, District 2, were unopposed in the Democratic primary through Thursday. It was unclear at press time if there were any GOP qualifiers.
In other local races, all three DeKalb Superior Court judges up for re-election – Asha F. Jackson, Courtney Johnson and Daniel Marshall Coursey Jr. – were unopposed through Thursday.
State House, Senate races
In the open Senate District 42 seat vacated by Jason Carter, the lone Democrat running for governor, nonprofit executive Elena Parent from Atlanta will face attorney R. Kyle Williams of Decatur for the Democratic nomination if no one else qualifies. There were no Republican qualifiers for the seat through Thursday.
In Senate District 40, Democrats Benedict I. Truman II, an Atlanta consultant, will face Tamara Y. Johnson of Tucker. Johnson lists her occupation as "advocate."
In the GOP primary in North DeKalb, incumbent state Rep. Tom Taylor, a defense contractor who lives in Dunwoody, will face James Bradley "Brad" Goodchild, a Dunwoody dentist, in House District 79.
In House District 80, incumbent Mike Jacobs will face Catherine Bernard. Both are lawyers and live in Atlanta.
House Democrats who were unopposed through Thursday are Scott Holcomb, District 81; Mary Margaret Oliver, District 82; Howard A. Mosby, District 83; Rahn Mayo, District 84; Karla Drenner, District 85; Earnest "Coach" Williams, District 87; Billy Mitchell, District 88; Stacey Abrams, District 89; Pamela S. Stephenson, District 90; Tonya P. Anderson, District 92; Dar'shun Kendrick, District 93; and Karen Bennett, District 94.