Proposed East Metro CID hosting March 11 Open House
3/7/2014, 6 a.m.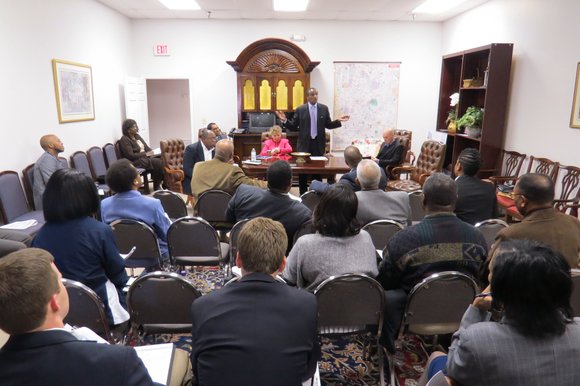 Property and business owners can attend a March 11 open house for the proposed East Metro DeKalb CID.
The 8 a.m. to noon event will take place at the Sanford Realty Company in Decatur.
The proposed CID, would cover 39 square miles, have 1,250 commercial properties and generate projected annual revenues of up to $2.4 million.
Organizers need 636 of the property owners to sign on.
A team of professionals will be present during the open house to answer questions.

Property owners will have the opportunity to sign up during the open house.
The proposed Community Improvement District is merging the efforts by Candler Road, Stonecrest and Wesley Chapel commercial corridors. It would encompass the I-20 corridor to Stonecrest and include Memorial Drive, Candler Road, Wesley Chapel, Panola Road, Flat Shoals Parkway, Gresham Road, Covington Highway, Turner Hill and Evans Mill roads.
In CIDs, commercial property owners tax themselves an extra 2 to 5 mills annually to create a fund to finance roads, bridges, sidewalks, beautification projects, security and other improvements. With those funds, a CID can leverage up to 10 times more in funding from the federal government.
Organizers say the CID will be a powerful public-private partnership to leverage matching dollars from local, state, and federal government agencies, help increase property values, revive business, create jobs and enhance the overall quality of life in southeastern DeKalb.


Funds generated by the self taxing district will be earmarked for major improvement projects such as infrastructure, transportation, public safety and beautification.

Early supporters include McDonald's at Stonecrest and Panola Road, Zaxby's at Stonecrest, Hilton Garden Inn at Stonecrest, Injury 2 Wellness on Covington Highway and Kaiser Permanente at Stonecrest and Panola Road.

Dr. Johnny Garcia, owner of Injury 2 Wellness, said South DeKalb is poised for growth.

"The East Metro DeKalb CID is an economic development tool that will be beneficial for South DeKalb and the business community," he said.
Organizers are seeking to have the new CID approved by the DeKalb Board of Commissioners by May 2014 and be operational by July 2014. If approved, it would join 17 CIDs across metro Atlanta.
Michael Hightower, managing partner with The Collaborative Firm, which has been hired by the county to shepherd the CID through the approval process, said momentum is building among property owners within the proposed boundary.

"They are excited about the formation of the proposed community improvement district, and the opportunity to provide input on how the funds generated from the CID will be utilized," he said.
The Sanford Center is at 4183 Snapfinger Woods Drive in Decatur. For more information visit www.eastmetrocid.com or call 404-684-7031.