DeKalb launches anti-grease dumping campaign
Ken Watts | 3/14/2014, 6 a.m.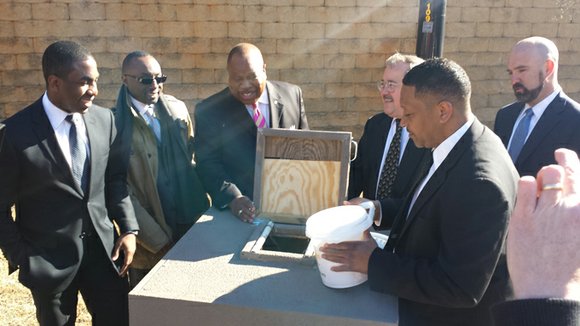 More than 2,200 residents at seven apartment complexes across DeKalb County will soon have grease pickup service.

The collection by Atlanta recycler Green Grease Inc. is part of a new anti-grease dumping campaign sponsored by the Atlanta Apartment Association.
Under the voluntary program that kicked off March 13 at five complexes, Green Grease, which has a plant in Lithonia, is providing custom-built receptacles for tenants to dispose of their fats, oil and grease and will haul the contents away. The association also will host meetings to introduce the FOG collection program to tenants. It is at no additional cost to customers.
DeKalb interim CEO Lee May, who announced the pilot program Thursday at Edgewater Vista Apartments in Decatur, said FOG clogs pipes and causes spills.
Other participating complexes are Clarkston Station and Lakes at Indian Creek in Clarkston and Century Peachtree Creek, Post Glen, Sienna Ridge, and the Pointe at Lenox Park in Atlanta. A total of 2,215 residents live in the complexes.
May said county statistics show that a growing number of sewage spills caused by FOG occur near apartment complexes, which points to illegal dumping of grease down kitchen sinks and sewer mains.
The collection program is the second FOG initiative encouraged by DeKalb Watershed Management this year. In January, it launched an informational campaign urging tenants and homeowners not to pour grease down the drain.
Alicia Pennie, Watershed's acting public relations manager, said the county has no involvement in the contract nor the selection of the grease vendor. She said 70 percent of county sewer spills are grease-related.
"We have shown that there's a direct correlation between where apartment complexes are located and where we're having sewer spills," she said at a Dec. 7 presentation at Commissioner Stan Watson's Community Cabinet meeting at Chapel Hill Middle School.
DeKalb is in the midst of a $1.35 billion upgrade of its aging water and sewer system. Visit http://dekalbwatershed.com/departments/fog for more information.