DeKalb Development Authority is now county's economic arm
3/14/2014, 6 a.m.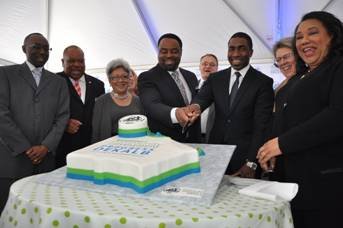 The Development Authority of DeKalb County is now the county's economic development arm.
Interim CEO Lee May and Vaughn Irons, the authority's chairman, signed the intergovernmental agreement designating the DADC the county's economic development agency at a March 13 document-signing ceremony at the Kensington MARTA station, a proposed transit-oriented development site.
May said the agreement signals the new way of undertaking economic development.
"We are stronger when we work together in partnership," he said.

With the agreement, the DADC will implement economic development programs, such as New Market Tax Credits, small business/entrepreneur loans, and manage the Brownfield Revolving Loan Fund Grant program, among others. It also will manage the county's Tax Allocation Districts, develop a marketing and branding plan, and create a new business alliance to support a meaningful engagement with the greater business community.

May said other local jurisdictions enjoy widespread success with the model and are realizing exciting results.

"With this in place, DeKalb County will be elevated as a major competitor on the local and national stage," he said.
Irons said that government and business have to work together for success.
"Government doesn't really create jobs by itself," he said. "However, government is responsible to create a business-friendly environment and that is what is happening here and now."

The DADC will eventually employ a staff of 12, with an annual budget of $1.25 million for the first five years. The team will be led by a president, but until a national search for a qualified candidate can be completed, the authority's board of directors will act in that capacity.


Commissioner Larry Johnson, the DeKalb Board of Commissioners presiding officer, said the partnership gives DeKalb County the tools it needs to ensure the full implementation of the comprehensive economic development strategic plan they have been working on.

"Now the DADC will have the funding and the staff to take the lead on stimulating new investments, expanding existing industry, and developing sustainable economic strategies for balanced growth," he said.
The county said that the intergovernmental agreement with the development authority is the latest in a series of developments designed to streamline operations and create a business-friendly environment in DeKalb County.

The DADC will deliver quarterly reports to the Board of Commissioners in a public forum on the progress of the implementation of work and the status of economic development activities.