Johnson, Sebelius tout ACA as deadline looms
3/14/2014, 6 a.m.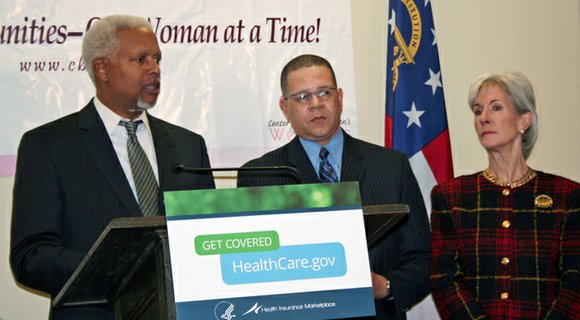 U.S. Rep. Hank Johnson joined Health and Human Services Secretary Kathleen Sebelius on March 10 in Atlanta to promote the Affordable Care Act as the March 31 deadline looms to enroll in the Health Insurance Marketplace.
"With 21 days of open enrollment left, my top priority is reaching every American who needs access to quality, affordable insurance to help them understand how to sign up," Johnson said.
In his 4th Congressional District, Johnson said more than 165,000 people lack health insurance.
"But today because of the ACA, they have a chance to access quality, affordable coverage without fear of discrimination or higher rates because of a pre-existing health condition," he said. "They also now have the freedom to switch employers or start their own businesses without losing health care coverage."
Sebelius thanked Johnson for helping spread the word that it's not too late for Georgians to sign up.
"Congressman Johnson is a great partner in our effort to protect families and help millions of Americans enroll in quality, affordable health coverage," Sebelius said.
Also joining Sebelius were Dr. John Eaves, chairman of the Fulton County Commission, and Jemea Dorsey, CEO of the Center for Black Women's Wellness.
People who miss the March 31 deadline will have to wait until November 2014 to sign up for health coverage beginning Jan. 1, 2015.