Ministers rally against bill that would allow guns in churches
Ken Watts | 3/14/2014, 6:01 a.m.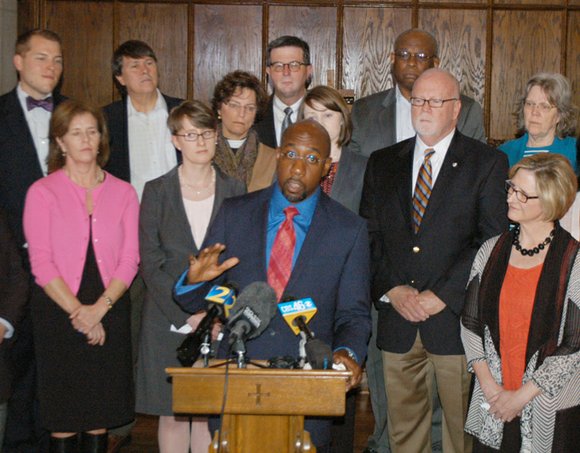 A coalition of religious leaders has urged state senators to reject sweeping gun legislation that would allow people to carry guns in churches and other places of worship.
The group of 18 clergy and lay representatives rallied at Central Presbyterian Church in Atlanta on March 12 as part of the Outcry! Georgia Interfaith Coalition.
HB 875 is seeking to lift restrictions on firearms to allow licensed gun holders to carry their weapons in churches.
The group includes the Rev. Raphael Warnock, pastor of Historic Ebenezer Baptist Church; the Rev. Julie Pennington-Russell, pastor of First Baptist Church in Decatur; Rabbi Loren Lapidus, The Temple; and Bishop Robert C. Wright, Episcopal Diocese of Atlanta. They said they never asked for the law and that its passage could make jeopardize the safety of churchgoers.
Warnock said 72 percent of Georgians think that guns in churches and other places of worship is a bad idea.
"If the people of Georgia have not asked for more guns in church and the faith leaders have not, from where does this kind of legislation come? Are those elected by the people doing the business of the people or are they doing the business of the gun lobby?" Warnock asked.
Gun control advocates have been rallying for more than a year against legislative efforts to expand the areas where people can carry guns. Last year, a bill that also included expanding gun carry areas to college campuses failed when the House and Senate couldn't come to an agreement. That bill was strongly opposed by the Board of Regents.
The effort was revived in the 2014 legislative session in the form of HB 875, which seeks to expand gun carry to churches, bars and government buildings that don't already have security. It dropped college campuses.
It is co-sponsored by six House members, including Rep. Rick Jasperse (R-Jasper) and Rep. John Meadows (R-Calhoun). No DeKalb legislators are among its sponsors.
In a surprise March 11 maneuver, bill backers attempted to force the hand of the Senate. They tacked most of HB 875 onto HB 60 – a related bill that had already passed the Senate – just as a Senate committee was set to hear testimony on the former bill.
The newly combined bill now goes back to the full Senate, which could be forced to take an up or down vote.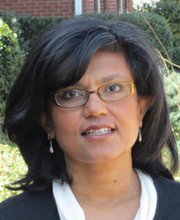 Piyali Cole, head of the Georgia chapter of Moms Demand Action, called the move "appalling."
Cole spoke as part of Georgia Gun Sense, another coalition that rallied at Central Presbyterian on Wednesday.
"It appears that the House does not wish to follow the democratic process and is trying to sneak the bill through by attaching it to another bill," Cole said.
But Georgia Carry head Jerry Henry said what the House did was perfectly legal and forces the Senate to take up the issue as approved by the House.
"The demand for this legislation does not come from the churches," said the Rev. Dr. David Bartlett, pastor of Trinity Presbyterian Church. "We have more than 260 signatures of pastors, imams and rabbis all over Georgia who support our opposition to this bill and we have over 1,400 congregation members who join us in opposing any legislation that allows guns in the sanctuary."
Senators said the bill could wind up in a conference committee instead of a full Senate vote. The 2014 session ends March 20.