Property owners warming to East Metro CID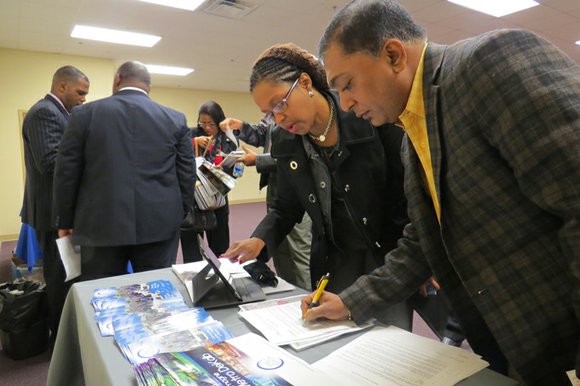 South DeKalb business, commercial and industrial property owners are slowly coming on board for the proposed mega East Metro DeKalb CID.
Through March 12, organizers say 31 percent of the 636 commercial property owners they need have signed up.
The proposed CID covers 39 square miles with 1,250 business generating annual revenues of $1.1 billion.
In a Community Improvement District, commercial property owners tax themselves 2 to 5 mills annually to improve infrastructure, transportation, public safety and beautification. With those funds, the CID can leverage up to 10 times more in funding from local, state and federal governments.
The proposed East Metro CID is merging the economic development efforts of Candler Road, Stonecrest and Wesley Chapel commercial corridors. Its boundaries encompass the I-20 corridor to Stonecrest and include Memorial Drive, Candler Road, Wesley Chapel, Panola Road, Flat Shoals Parkway, Gresham Road, Covington Highway, and Turner Hill and Evans Mill roads.
Gerald McDowell, who has worked with CIDs since 2005, said that Kaiser Permanente, which has medical centers on Mall Parkway and Panola Road in Lithonia; Hilton Garden Inn at Stonecrest; and SunTrust Banks already have signed up.
Other early supporters include McDonald's at Stonecrest and Panola Road, Zaxby's at Stonecrest, and Injury 2 Wellness on Covington Highway.
"We are meeting with Home Depot and Walmart next week," said McDowell, a consultant with the Collaborative Firm that is shepherding the CID through the county's approval process.

McDowell said information also has been sent to RaceTrac, which owns multiple locations within the boundaries of the proposed CID.
Last year when RaceTrac was going through the approval process for a new location at Wesley Chapel and Snapfinger Woods Drive in Decatur, the company said it would be part of the CID.
QuikTrip, which has locations on Wesley Chapel Road and Flat Shoals Parkway in Decatur, and Panola Road in Lithonia, also has been contacted.
During a March 11 open house for businesses at the Sanford Realty building in Decatur, business owners received information about CIDs and got their questions answered by presenters.
Organizers say the CID will be a powerful public-private partnership leveraging matching dollars from local, state and federal government agencies, helping to increase property values, reviving businesses, creating jobs and enhancing the overall quality of life in southeastern DeKalb.
Funds generated by the self-taxing district will be earmarked for major improvement projects such as infrastructure, transportation, public safety and beautification.
Mack Patel, president of the Super Inn Motel on Wesley Chapel, completed his paperwork after the first session at 8 a.m.
"This is good," he said. "It can change the area."
Patel said his company has owned the Super Inn Motel, which sits on a three-acre site alongside the Wesley Chapel/I-20 East exit ramp, for 15 years.

He said he is very concerned about the growing number of homeless people in the area.
"With the CID, maybe they will go away," he said.
Cornelius Jackson, who owns property on South Rainbow Drive, near the Gallery at South DeKalb, said the CID is a good idea.