Vocal business owners land visit from code enforcement
3/14/2014, 6:03 a.m.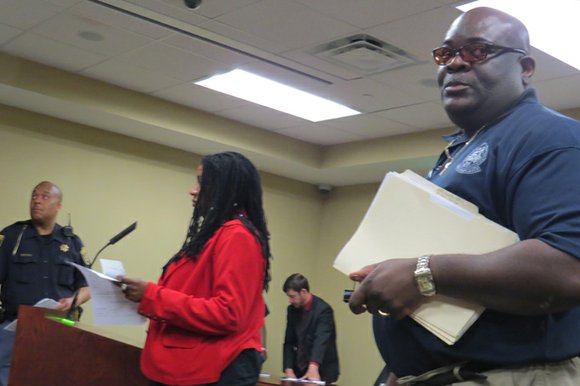 DECATUR — Two days after eight Candler Road business owners gave county officials an earful at a Feb. 24 meeting about the ongoing $7.1 million water main and beautification construction, DeKalb Code Compliance officers did a sweep of the area and cited two of them for sign violations.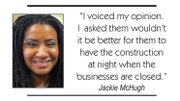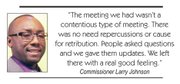 The cited owners are Pherita Furcron, owner of Encore Travel and a FedEx Center, who had been vocal in a CrossRoadsNews front-page story on the construction, and Jackie McHugh, owner of Locs for Life Salon, who was vocal at the meeting about the impact of the 11-month-old construction on her business.
Since the 3.7-mile project started in April 2013, the installation of 8- to 36-inch underground water mains has snarled traffic, blocked the entrances to businesses, kept customers away, and reduced sales 20 percent to 75 percent for some businesses.
Business owners complain that the county did not inform them about the scope and the length of the project and that work crews don't alert them ahead of time when the road and their driveways will be blocked.
After their complaints hit the newspaper on Feb. 8, District 3 Commissioner Larry Johnson hosted the Feb. 24 meeting with DeKalb Watershed Management, Wolverton & Associates, and Atlanta Gas Light to update business owners on the construction, now scheduled to last until September.
On Feb. 26, County Compliance Officers A. Baptiste and M. Housworth made a sweep of the area looking for violations of the county's sign ordinance and the I-20 overlay district.
It is the practice of Code Compliance to issue warnings before citations. County press secretary Burke Brennan said this doesn't apply when sweeps are done.
"If it is a sweep, they issue citations," he said Thursday.
The citations summoned the business owners to DeKalb Recorders Court on March 11.
Furcron, whose businesses are at 2376-B Candler Road, was cited for having banners on her building, which are prohibited in the I-20 overlay, and having multiple ground signs, also prohibited.
Next door at 2760 Candler Road, McHugh got tickets for having a ground sign exceeding 6 feet in height in the overlay district and for having dilapidated and neglected signs, in violation of county codes.
In a Feb. 8 CrossRoadsNews story, Furcron said her business had declined 75 percent since December because customers are avoiding the area.
"I used to have 30 people a day coming to ship packages," she said. "Now I have five a day."
At the Feb. 24 meeting, McHugh testified that she talked about the impact of the construction on her business and asked several times why work crews don't work at night when most businesses are closed.
Cornelius Williams, owner of Williams Insurance Agency, next door to Furcron's business, said he was surprised to see the Code Compliance officers two days after the meeting.
"Pherita had those banners over the window for a mighty long time and nobody came," he said. "Why now? It seems mighty strange."
Furcron opened her FedEx store in September 2011 with the signs and banners and had never been visited by Code Compliance before Feb. 26.