Volunteers conduct comprehensive survey of homeless veterans
Ken Watts | 3/14/2014, 1:31 a.m.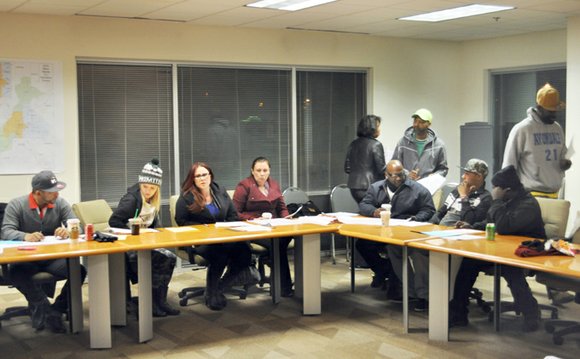 Advocates for the homeless are analyzing newly gathered data that could point to better ways to help some of metro Atlanta's hardest-hit people.
Volunteers took to the streets in the city of Atlanta and DeKalb and Fulton counties on Jan. 27 just ahead of the metro area's first snow and ice storm to conduct a ground-breaking survey of homeless veterans.
Dr. Josie Parker, project director, said the U.S. Department of Veterans Affairs needed a targeted national study and they needed it quickly.
"This year VA wanted to receive the most accurate and current statistics on homeless veterans to determine veteran housing and other critical needs," she said. "The VA and the White House decided that they want to end veterans homelessness by 2015."
The homeless veteran study was on top of the biennial census of homeless conducted on Jan. 29, 2013, by volunteers with the Metro Atlanta Tri-Jurisdictional Collaborative on Homelessness.
That census counted all people living on the streets and in shelters.
The U.S. Department of Housing and Urban Development uses the data to determine the official number of homeless in the Tri-J area and determine millions of dollars in funding to local communities for homeless aid programs. Organizers say this year more than $10 million in federal grant money is at stake.
For this year's homeless veterans survey, the VA needed more than just basic demographic information of age, gender and race. Washington officials wanted specific data about veterans living on the streets and awarded grants to 14 cities including Atlanta to gather additional information. DeKalb County Community Development was the lead agency for the Tri-J count.
Parker said this year's survey was unique because they not only counted every homeless person in the city of Atlanta and DeKalb and Fulton, but they wanted to understand how many of them were veterans.
"In order to do that, we also conducted a survey of the population and from that information we hope to understand the extent of veterans homelessness in our community," she said.
The volunteers asked the veterans about their experience in the military.
"We've always asked who among them is a veteran, but this year we asked how long they served, in which branch, and did they see war?" Parker said.
The Tri-J workers also focused on homeless young people between 18 and 24.
"With the young, the questions focused on issues such as foster care and where they were living before they became homeless."
The information will be used by local governments in Atlanta, DeKalb and Fulton who will submit the data from their areas to HUD.
"And with that submission we're hoping to get over $10 million in funding for our communities to help with housing and services," said Parker. "The data will also be submitted to the Department of Veterans Affairs to get money for housing and other programs specifically for veterans."
Parker said the Tri-J hopes to send the data to HUD and the VA by the end of March or early April.