Emory's Tibet Week delves into art, culture
3/21/2014, 3:19 a.m.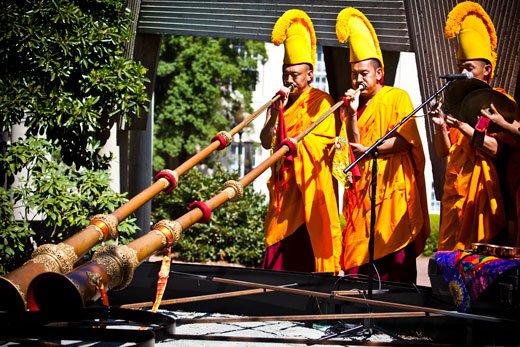 All things Tibetan will take over the Emory University campus March 24-29 for the university's annual Tibet Week observation.
Daily events include the construction of a vibrant sand mandala; a film screening; and panel discussions on Tibetan medicine, art, the Emory-Tibet Science Initiative and daily meditation.
All events are held in Emory's Michael C. Carlos Museum Reception Hall, 571 S. Kilgo Circle.
Geshe Lobsang Tenzin Negi, director of the Emory-Tibet Partnership, said Tibet Week is a special occasion to showcase and celebrate a wide range of Tibetan cultural events.
"We are also excited to have a number of new events geared especially toward Emory students, including a forum on the student-led China-Tibet Initiative," said Negi, senior lecturer in the Department of Religion.
The opening ceremony, conducted by Negi and monks from Drepung Loseling Monastery Inc., begins at noon on March 24.
Throughout the week, participants can spend a contemplative moment at the Living Mandala, located in Pitts Garden between Cannon Chapel and the Quad. The Living Mandala, created in 2012, is a garden designed to inspire peaceful reflection, compassion and harmony.
The monks will conduct a daily live exhibition of mandala sand painting. This year they will construct the Compassion Buddha or Avalokiteshvara skt. The exhibition begins at 1 p.m. on March 24 and thereafter at 10 a.m. through March 28, concluding each day at 5 p.m.
Compassion meditation will be held weekdays at 5 p.m. Leaders are Kari Leibowitz, Carol Beck, Bobbi Patterson, Amanda Pema Brown and Tim Harrison.
Scheduled talks and events
A talk, "The Tibetan Art of Diagnosis: Utilizing the Five Senses as Medical Instruments," takes place at 7:30 p.m. on March 24. Tibetan doctors Khenrab Gyamtso and Tashi Dawa will discuss how they and other Tibetan doctors rely on their own five senses to examine their patients, name their ailments, and recommend treatments and medications.
A Creativity Conversation in which Jon Kolkin and Tara Doyle explores the creative process in seeking wisdom and balance in life at 7:30 p.m. on March 25. Doyle is Emory's director of the Tibetan Studies Program in India. Kolkin is a fine arts photographer, whose series "Inner Harmony" is about looking inward to find fulfillment. His photographic series, "Seeking Wisdom," will be on exhibit in the Chace Gallery in the Schwartz Center.
During Tibet Week, ETSI will host the 6th International Conference on Science Translation into Tibetan beginning March 25 through March 29 on the 6th floor of 1599 Clifton Road.
Emory University is at 1762 Clifton Road in Atlanta. For the full calendar, visit www.tibet.emory.edu/news/documents/TibetWeek2014.pdf.