DeKalb School Board candidates court votes at NAACP forum
Ken Watts | 3/21/2014, 5:55 a.m.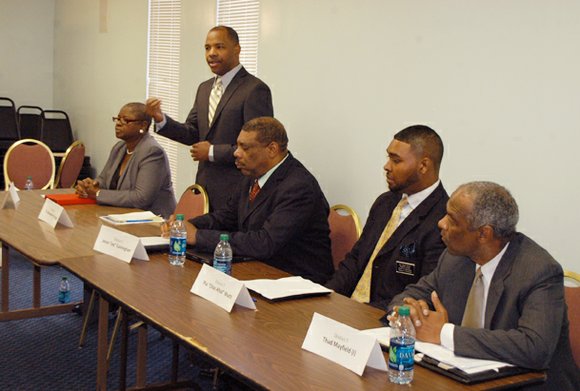 Voters got their first up close and personal look at 20 candidates running for seven open DeKalb School Board seats at a DeKalb NAACP forum on March 15.
The three-hour Q&A session at the NAACP's headquarters in Decatur offered a glimpse into how incumbents and newcomers in the May 20 nonpartisan election would solve some of the school system's toughest challenges.
Two candidates, District 2 incumbent Marshall Orson and incumbent Joyce Morley, District 7, were absent. About 65 people were in the audience.
Candidates offered their views on board governance, student performance, teacher pay raises and accreditation.
Organizers broke the group into two panels. The first question from moderator Lance Hammonds went to a panel that included District 6 incumbent Melvin Johnson; challenger Bridgeman Bolger; Don McChesney, District 2; and District 1 candidate Stan Jester.
"How would you reduce DeKalb's high dropout rate?" he asked.
Bolger recommended creating a Department of Dropout Prevention in the school system.
"We could have specialized counselors to find and target students who are at risk of dropping out," said Bolger. "A lot of times students drop out because of their own academic mistakes but other times it's because of life-changing events like pregnancy or losing both parents and becoming the sole breadwinner for the household. We need to engage these students and show them there are ways to continue their education."
Johnson said any effective response to dropouts has to take social and family dynamics into account.
"Some students move out of the School District with their families, then come back with not enough credits to graduate in DeKalb and drop out," Johnson said. "Some of that is out of our control but we can enlist the help of social service agencies to stabilize families. "

Jester said the dropout rate is connected with DeKalb's teacher-pupil ratio.
"I think our classes, among other things, are just way too big," he said. "The Legislature sets the legal limit for class sizes but we go way over that."
McChesney wants to see the school system offer more support to parents.
"That can help reduce the dropout rate," he said. "We also need to make sure we're hiring the best possible teachers. It's not a money issue."
Avoiding future problems
In the District 2 race with incumbent Michael A. Erwin and challengers Atticus LeBlanc of Avondale Estates and Willie Mosley Jr., Jarrod Jordan and Jerrie D. Bason, all of Decatur, they were asked how they would avoid future problems with the district's accrediting agency, the Southern Association of Colleges and Schools.

"We would definitely have to stay in our own lane because you don't want to say or do the wrong thing," Mosley said.
LeBlanc said good governance depends on efficiency.
"You can't be efficient if you're trying to do everyone else's job." said LeBlanc. "I think the biggest part is having faith in your employees that they do have your core values and can address needs as they come up. And you need to hold them accountable from the superintendent on down."