Panola traffic signal to be powered on soon
3/21/2014, 3:17 a.m.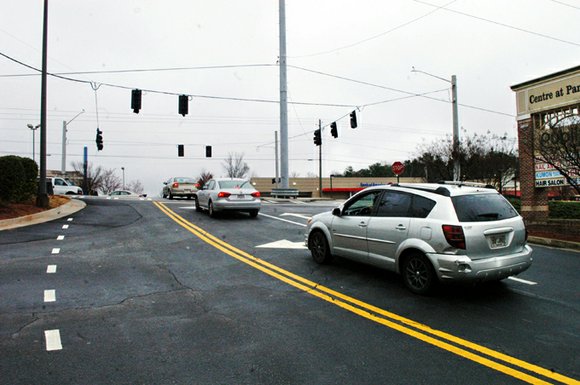 LITHONIA — After an eight-month wait, traffic relief is on the way for customers of Publix and other retailers in the Centre at Panola shopping plaza in Lithonia.
The traffic signal, installed on July 27, 2013, may be connected to electricity service as soon as the end of next week, Georgia Power spokesman John Kraft said on March 19.
"We got the order a week ago and the work is in the process of being scheduled," Kraft said. "The signal should be connected by March 28 or sooner, weather permitting."
The traffic signal was installed to help customers get in and out of the shopping center on busy Panola Road, but it never went into service because county inspectors found that the signal's wiring didn't meet minimum specifications and would not synchronize with other traffic signals on the road.
DeKalb County spokesman Burke Brennan said this week that the county had been waiting for the Publix contractor to complete the corrections so it could order power to be installed.
"They just notified us that they have completed the required work and we have ordered power," Brennan said in a March 11 email. "Once Georgia Power connects the power, we can turn it on."
Centre at Panola owners Kite Realty and Publix, which anchors the shopping center, paid $112,000 for the traffic lights to enhance safety for the their customers and tenants. They also installed new sidewalks, pedestrian signals, a crosswalk and wheelchair access ramps at the intersection.

Customers had complained for years that it was dangerous exiting the plaza because of the high speed that motorists travel along the corridor. The new lights will control north-south traffic on Panola, giving the center's customers and patrons at IHOP across the street signals for safe entry and exit.