Family calls for end to violence at Salem Middle
Ken Watts | 3/28/2014, 6:22 a.m.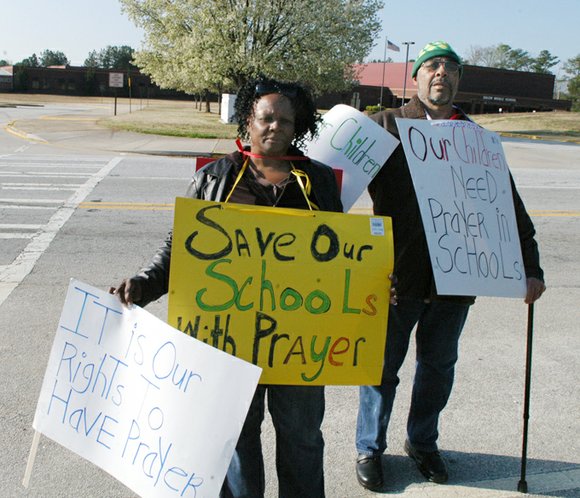 Rhonda and Odis Ferguson were shocked when they arrived at Salem Middle School on March 14 to pick up their grandson Justice Ferguson.
"His face and his eye were pretty swollen," Rhonda Ferguson said. "His eye was bloodshot red."
Ferguson said the 11-year-old was knocked unconscious in an unprovoked attack, called the "knockout game," at the school.
"It's when pranksters sneak up on unsuspecting individuals and punch them in the face or head," she said.
Ferguson said Justice was waiting for a bus at the Lithonia school when an older, bigger boy, egged on by three other boys, came up behind him and punched him hard in the left eye. DeKalb School District officials acknowledge the incident but say Justice was not knocked unconscious.
"They called me and said, 'Come and get him,'" Ferguson said Monday.
At DeKalb Medical where Justice was treated, Ferguson said she was told that he had a contusion.
"I took him to his pediatrician and she said it was a concussion and swelling of the brain," she said.
Ten days later, Ferguson said Justice still has dizziness, changes in his vision and nervousness. He returned to class Monday and Tuesday this week, but because of his symptoms, his grandparents say they kept him home the rest of the week.
"It's like he has post-traumatic stress disorder from being jumped like that," Ferguson said.
Ferguson and her husband have been married for 18 years. They are raising their stepson's children Justice and his 13-year-old brother, Christopher, who also attends Salem Middle School.

On March 24, the Fergusons stood on Salem Road across from the Lithonia school from 8 to 10:30 a.m. and from 3:30 to 5 in the afternoon in protest against the violence that injured their grandson. They carried signs with "Help stop the violence in our schools" and "Save our schools with prayer" on Monday, Wednesday and Friday this week. They plan to continue the protest on the same days next week.
They said they were protesting because school administrators have not cracked down effectively on violent behavior at the school.
Their demonstration drew supportive honks from passing motorists on their way to work.
The Fergusons say their grandsons also have told them it's dangerous to use the school's restrooms.
"In there is a group of boys, I don't know how they get to do this, but they hang out in the restrooms and challenge students to fight for 15 seconds," she said. "Kids get their heads busted, hit up against sinks, everything."
Ferguson said both of her grandsons have been approached to go 15 seconds.
"I don't know why the teachers aren't monitoring the bathrooms and kicking kids out of the halls when they don't belong there," she said.

Odis Ferguson, 64, a disabled Vietnam veteran and retired FedEx employee, said Salem Middle principal Shelia Johnson-Reese downplayed the attack on their grandson.
"She said, 'You know how boys are,' " he said. "And I said that's not about being a boy. That's about being a bully."