FedEx Center gets warning for operating without business license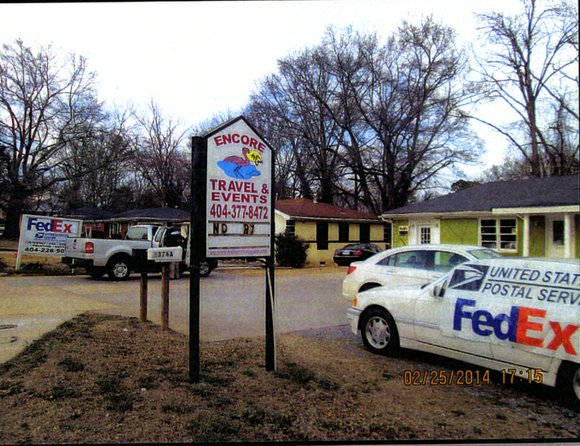 The FedEx Postal Center on Candler Road has been operating illegally for three years.
DeKalb Code Compliance says owner Pherita Furcron has operated without a business license since she opened the store in September 2012.
On Feb. 25, Code Compliance officers, responding to an anonymous call about the business, issued her a "cease and desist" warning along with two citations for illegal signs.
The warning directed Furcron to secure a business license by Feb. 26 or "to cease and desist all activity if not acquired by 4:45 p.m."
Furcron removed the signs and banners and pleaded guilty to the sign violations. She paid $1,000 in fines on March 11 but continues to operate the postal center with smaller signage on the building and mounted on her Encore Travel Agency sign.
She said Wednesday that she has been unable to get a business license because the zoning on her property at 2376-B Candler Road was incomplete.
Furcron sought unsuccessfully on Sept. 25, 2012, to get the county to lift a zoning restriction that limits the commercial zoning on her property to the operation of a travel agency only.
The Board of Commissioners denied her application.
On Oct. 25, 2012, she appealed the decision in the DeKalb Superior Court.
On March 20, Superior Court Judge Daniel Coursey Jr. dismissed the case.
When told of the dismissal by a reporter, Furcron said she was unaware of it and had to speak with her lawyer.
"I need to find out about that," she said.
She did not return the phone call by press time Thursday.
Code Compliance Supervisor Jerry Silver said that the call about the FedEx Center came to them anonymously and he immediately knew where the building was because he had driven by it several times.
He said that calls about businesses operating illegally get top priority treatment.
"For calls about operation without a permit, we send someone out right away," he said. "This is something she shouldn't have been doing."
Silver said that Furcron told them that she thought she could operate without a permit because she was appealing the BOC decision on her zoning.
He said he was surprised to find out that Furcron had operated that long without a permit and with so many large signs. He said his department would research her case before following up on the cease and desist warning.
"Usually when a business is illegal, they don't advertise," he said.