Flakes Mill water main project to take 10 months
3/28/2014, 4:23 a.m.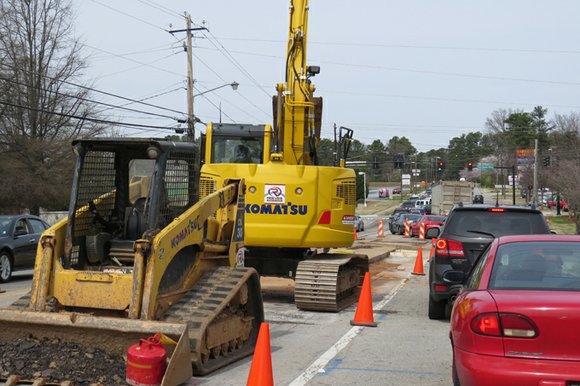 Traffic will be moving slowly on Flakes Mill Road in Decatur through Dec. 15 as work crews install 4.3 miles of new water main.
The $5.42 million Flakes Mill Road Waterline Improvement Project has been under way since Feb. 25.
The DeKalb Watershed Management project includes replacing older water main pipe along Flakes Mill Road between Flat Shoals Parkway and the Henry County line.
Alicia T. Pennie, Watershed Management's acting public relations manager, said the work is part of the ongoing efforts of the department to update its aging water and sewer infrastructure.

"The project will improve the reliability of the existing water distribution system and reduce the number of breaks and interruptions to the system," Pennie said.
The work, which is being done by Reeves Contracting Co., is included in the county's $1.35 billion Capital Improvement Plan that was adopted by the Board of Commissioners in December 2010.
Flashing signs near the intersection of Flakes Mill and Flat Shoals Parkway warn commuters to expect traffic delays between Feb. 25 and Dec. 15, 2014.
This is the second water main replacement under way in Decatur.
Since April 2013, Watershed Management has been replacing pipelines along Candler Road. That $7.1 million project has snarled traffic along the busy corridor and kept some customers away from area businesses.
It includes installing a 36-inch water main between I-20 and Valley Ridge Drive and 2.5 miles of 12-inch mains and two-thirds of a mile of 8-inch mains to Glenwood Road.