Gateway beautification plantings to take a while to grow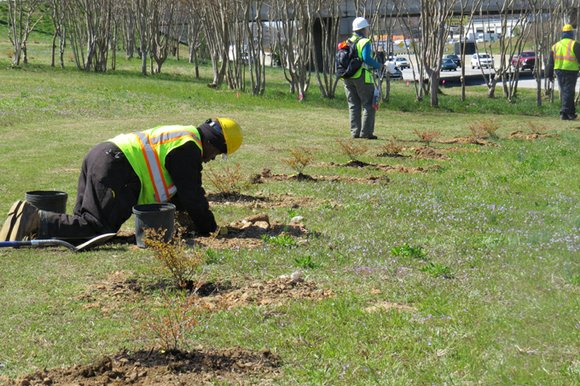 Hundreds of trees and shrubs are finding a home on the banks of the entrance and exit ramps at Bouldercrest Road and I-285 and Turner Hill Road and I-20, but it will take awhile before their impact will be seen.
The plants installed in the first two weeks of DeKalb County's new $1.2 million Gateway/Interchange Beautification Program to beautify seven interchanges on I-20, I-285, I-85 and U.S. Highway 78, are small, which means it will take a long time before they will make an impact.
The contracts, obtained from the county this week by CrossRoadsNews, show that in January, as part of its Operation Fresh Start initiative, DeKalb awarded $1.02 million in landscaping contracts to three companies – 3 Macks Lawn Service of Stone Mountain, ArtScape Inc. of Conyers, and Georgia Green Landscaping of Marietta.
All three companies are required to install the trees, shrubs and flowering plants, including day lilies, Muscogee crape myrtles, dwarf pine Yaupon, abelias, Blue Pacific junipers, pink muhly grass, Lantana camara, Loropetalum and Muhlenbergia calloparis; mow the interchanges four times a year; and maintain them for two years.
At the end of that time, the county expects the maintenance to be taken over by various CIDs already up and running or in the formation stage.

ArtScape, which began installing plants on the Bouldercrest Road ramps a week before the county's March 14 ground breakings, won a $306,225.56 contract to beautify Bouldercrest Road and 1-285, Candler Road and I-20, and Mountain Industrial Boulevard and U.S. 78.
A $344,117.70 contract to beautify Turner Hill Road and I-20 and North Druid Hills and I-85 was awarded to 3 Macks Lawn Service, and Georgia Green Landscaping won a $312,763 contract to beautify LaVista Road and I-285 and Memorial Drive and I-285.
Through Thursday, ArtScape and 3 Macks had shrubs and some trees, but most of them were tiny.
Andy Taylor, president of Conyers-based ArtScape Inc., said Thursday his crew was halfway through the plantings at Bouldercrest.
"We should be done by next week," he said. "Then we will start mulching."
Some of plants already installed by ArtScape and 3 Macks this week were surprisingly small.
For example, the ArtScape contract calls for 860 Juniperus conferta 'Blue Pacific' priced at $26.91.
A look at pricing on the Internet on Thursday showed plants twice as big selling for $14.95.
Taylor said that they have encountered problems locating all the plants they need but that the day lilies, which grow from bulbs, will be popping out the ground pretty soon.
"They are going to have an impact pretty soon," he said. "In a month or so, they will provide beautiful colors."
He said the Blue Pacific junipers will take several years to fill in.
"They were the only 'Blue Pac' we could find at this time, but we have added in about 100 extra plants to help fill it in quicker," he said. "And that's at no extra cost to the county."
Taylor's company also is landscaping the interchanges at Candler Road and I-20 and Mountain Industrial Boulevard and U.S. 78.