'Maurice Hines Is Tappin' Thru Life' at the Alliance Theatre
3/31/2014, 3:12 p.m.
ATLANTA — Maurice Hines, brother of legendary tap dancer Gregory Hines, will pay tribute to his late sibling April 2 to May 4 at the Alliance Theatre.
His musical, "Maurice Hines Is Tappin' Thru Life," which has played in Washington and other cities, captivates audiences with stories, songs and smooth choreography.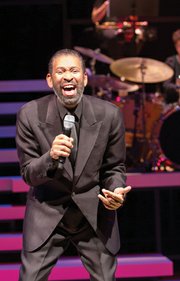 The show, directed by Tony Award nominee Jeff Calhoun ("Newsies" and "Grey Gardens"), is written by Hines and co-produced by Arena Stage and Cleveland Play House.
Hines began performing at 5 years old, first with his brother and then his father. He and his brother, who died in 2003 of liver cancer, were regulars on Johnny Carson's "Tonight Show."
"Maurice Hines Is Tappin' Thru Life" brings the history of American tap to life and pays homage Gregory Hines, family, and singers like Frank Sinatra, Judy Garland and Lena Horne who inspired him.
It also showcases the talents of tap-dancing brothers John and Leo Manzari.
Hines, 70, said the show has evolved into not only a celebration of his brother, but also as a celebration of his parents, especially his mother.
"This play is really a love letter to her as the driving force in keeping all of us on the right track in our careers and teaching us to go through life with class," he said. "This show also gives me the opportunity to thank the fantastically effortless performers who influenced me."
He will be backed by an all-female powerhouse ensemble, the DIVA Jazz Orchestra, led by music director, drummer and longtime Hines collaborator Sherrie Maricle.
The ensemble features Atlanta area musicians Jami Dauber and Liesl Whitaker on lead trumpet, Marla Feeney on alto sax, Connie Frigo on baritone sax, Dr. Amy Griffiths on tenor sax, Hollie Lawing on trombone, Jackie Pickett on bass, Penelope Williams on piano, and Alexa Yates on second trumpet.
Hines said they give their all.
"Whenever I am on stage, I always follow the advice my mother, Alma, told Greg and I," he said. "'No matter what you do on stage and in life, always do it with class.'"
Washington Post reviewer Nelson Pressley says Hines is "a spoonful of sugar and a shot of caffeine" and sings his heart out.
"Maurice Hines loves you. He loves his family, he loves his life and he loves the spotlight," he wrote. "He's an old-school entertainer, the life of the party. He wants to make you smile, and he won't take 'no.'"
Director Calhoun calls Hines "one of the finest song-and-dance men of our time."
"He is that rare breed whose tongue is as facile as his tapping feet," Calhoun said.
The show is part of the Coca-Cola Series on the Alliance Stage. It also is supported by the Home Depot, Delta and PNC Bank.
The Alliance Theatre is at the Woodruff Arts Center, 1280 Peachtree St. N.E. in midtown Atlanta. Tickets start at $30 and are available at the Woodruff Arts Center Box Office by calling 404-733-5000 or visiting www.alliancetheatre.org/tappin.