Brown sets sights on another milestone – a seat in Congress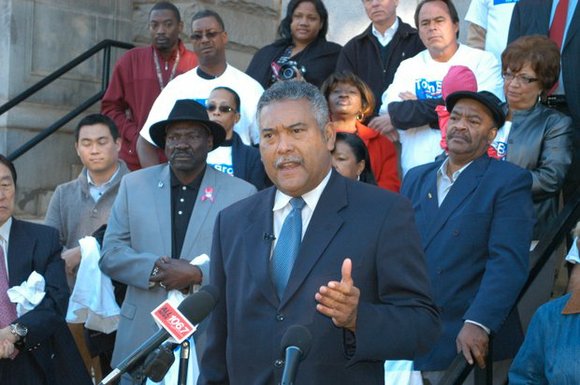 Document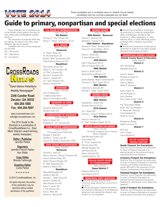 By his own admission, Tom Brown is a man who maps his life in 10-year increments.
As a young whippersnapper in the Atlanta Fire Department, he had his eyes set on being fire chief by age 40. He made it at age 32 in DeKalb County in 1985.
Four years later he was public safety director, and in 2000 he was appointed sheriff when former Sheriff Sidney Dorsey was arrested for orchestrating the murder of Derwin Brown, his elected replacement.
After three unopposed terms as sheriff, Brown now has his eyes set on another milestone – a seat in Congress.
On May 20, he is hoping to unseat four-term U.S. Rep. Hank Johnson. In a wide-ranging interview on April 25, Brown, 62, said he thought a long time about running for Congress.
"I am a public servant at heart," he said. "I am offering myself as someone who has proven leadership, who has shown that they can put together a budget, manage a budget, that can put together new programs, eliminate programs that are not working, that has been able to work within the resources that we have, and to be able to go to Washington and look for resources when there were none back home to keep things operating."
Brown says he wants to be an initiator of change, and not somebody who is merely just waiting for change to happen.
"I want to be at the table discussing how legislation needs to be crafted to move this nation forward," he said, "not waiting for others to do it."
In 2000, Brown said he contemplated running for DeKalb CEO but couldn't convince then-wife Yolanda about what his family would do if he didn't win. She wanted to know his Plan B.
"At the time my daughter was in middle school and my son was in elementary school," he said. "In politics, you don't have a Plan B. So I didn't get in the race."
In 2010, when Vernon Jones and Connie Stokes challenged Johnson, Brown said he seriously considered entering the race but didn't for personal reasons.
Now divorced and a grandfather, he is going all out for the 4th Congressional District seat that includes portions of DeKalb, Rockdale, Newton and Gwinnett counties.
"I love this country and I love this district and I am not happy with the direction that this Congress is taking America, which is nowhere," he said.
In 2013, Brown said, the 535-member Congress passed only 58 bills that went to President Obama for signing.
"Most of them were to name post offices after individuals," he said. "It's a do-nothing Congress."
District needs to be front, center
Brown says the 4th District needs a strong voice in Congress that reflects the district's demographic.
"The type of people that make up this district, their income level, their educational level, their position in Fortune 500 companies, their positions in owning their own businesses, those voices are loud," he said. "Those voices are clear. And the voice in Washington needs to be as loud and clear to make some things happen."