Decatur's Rock honored for service with Tuskegee Airmen
5/2/2014, 2:43 p.m.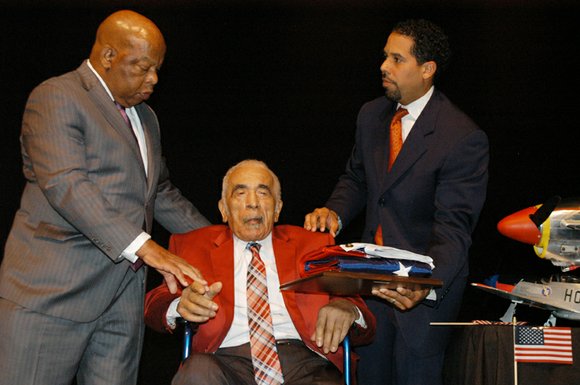 Nearly 70 years after his military service ended, Harry Rock received recognition as a surviving member of the famed Tuskegee Airmen, a decorated all-black squadron of World War II pilots when U.S. Armed Forces were strictly segregated.
Fifth District congressman and civil rights icon John Lewis honored the 90-year-old Decatur resident on April 18 with a Congressional Certificate of Recognition and an American flag that once flew over the U.S. Capitol. The ceremony at the Porter Sanford III Performing Arts Center was sponsored by the DeKalb Southern Christian Leadership Conference, the Essien PR agency and the National Congress of Black Women.
An audience of about 70 people applauded and cheered as Rock arrived on stage in his wheelchair, stopping next to a huge red and silver model of the P-51 Mustang fighter plane that the Tuskegee Airmen flew on combat missions in Europe and North Africa.
Lewis praised Rock as a defender of freedom at home and abroad.
"Between 1943 and 1945 he stood to help liberate the people of Europe," Lewis said. "He was a man who never gave up, never gave in, who kept the faith and kept his eye on the prize."
Rock, who has been in fragile health, did not speak but he gave a subtle smile as Lewis spoke and made the presentation.
The ceremony was an emotional experience for Rock's family because he waited more than five decades before publicly identifying himself as an Airman.
Rock's grandson Kamal Carter said his grandfather is a quiet, unassuming man who never sought credit for himself and taught his grandchildren to play chess and golf.
"We knew that my grandfather was a Tuskegee Airman but he never really talked that much about his experiences," Carter said. "He was angry about the way they were treated, about the racism that they faced at that time and his treatment as an airman and he was bitter. It took him years, until he was 88, to let that go and open up about his experience."
A New York native, Rock enrolled in what was then Tuskegee Institute in Alabama where he majored in physics. He enlisted in the Army in 1943 as a foot soldier serving in Europe as a medic, quartermaster and ward attendant. Rock returned to Tuskegee in 1945 to enroll in flight training with the Tuskegee Airmen. He scored the highest in his class on the exam for entrance into the pilot's program, which he successfully completed, becoming a full-fledged member of the squadron.
But the war in Europe ended on May 8, 1945, before Rock could fly a combat mission.
Rock's service contributions as an original Tuskegee Airman were verified in 2012 by Tuskegee Airmen Inc. and the Department of the Army. A chance encounter that year with other Airmen at a Sam's Club event catapulted Rock into public attention.
He was honored at several community events in 2013, including the Atlanta Braves Heritage Weekend.
Public relations agency owner Arit Essien pushed for the recognition ceremony at the Porter Sanford Center with the help of the DeKalb SCLC.
She had met Rock at the Sam's Club event and got to know him.
"I got a phone call from his caregiver on New Year's Eve 2013 and she told me that Harry had turned 90 that day," Essien said at the ceremony. "So I stepped up efforts to get Congressman Lewis to make a presentation."
Kamal Carter said his grandfather's greatest legacy is his family. Rock's grandchildren have graduated from the University of Florida, Hampton University, Xavier, Tufts and Case Western Reserve University. They have distinguished themselves in the fields of education, medicine, the military, business and air traffic control.
"He taught us to be renaissance men and women," said Carter, a business adviser for athletes and entertainers. "So I feel like he's proud to pass the torch on to us."