District 5 School Board hopefuls clash over charter clusters
Ken Watts | 5/2/2014, 6:09 a.m.
Document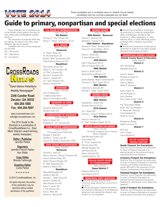 Incumbent District 5 DeKalb School Board member Thad Mayfield drew heat at a Southwest DeKalb High PTSA candidate forum on April 28 over a report that North DeKalb Republicans are counting on the support of a "gentleman from South DeKalb" to help them win board approval of a proposed seven-school Druid Hills Charter Cluster that was rejected in 2013.
"Is the gentleman sitting at this table and is it OK for candidates and board members to promise their votes before hearing all the sides of the issue," asked forum moderator and CrossRoadsNews Editor and Publisher Jennifer Parker.
In March, Sen. Fran Millar (R-Dunwoody) told a meeting updating his constituents on legislative initiative aimed at the DeKalb School District that:
"We know we will have three votes in favor of the cluster and another gentleman from South DeKalb is also running. If he wins, we'll have a 4-3 majority which will give a chance for the cluster to form."
Mayfield, who was appointed by Gov. Nathan Deal to the School Board in 2013, is the District 5 incumbent. He is being challenged by private school operator Vickie Turner, Transportation company owner and PTA President R. Alexander Fitzhugh, and former School Board member Jesse "Jay" Cunningham, who was removed from the board by Deal. Pia Bhatti, the fourth challenger, was absent.
Twenty candidates are seeking the seven seats on the School Board that was reduced from nine seats. Districts 3 and 5 attracted the most candidates – five each.
The April 28 forum at Southwest DeKalb High was co-hosted by the South Lithonia Neighborhood Coalition.
Mayfield admitted that he was the "gentleman" referred to by Millar because of his vote last year supporting the Druid Hills cluster that was rejected in a 5-to-4 vote by the School Board.
Mayfield said he had seen a video of the meeting and heard Millar's comment.
"It was more a representative boasting to his constituents about what he had done," Mayfield said.
He said that he never made promises to Millar or anyone else about how he will vote in the future.
"What we have is a situation where a politician is speculating about how I might vote," he said. "There was only one South DeKalb man on the board who voted for the cluster and that's me and I gave my reason. We needed a prototype [to see if it works]. But now really that is a moot point because the superintendent wants the whole district to convert to a charter system."
He challengers were quick to jump on the issue.
Turner said it's simple for her.
"I can't be bought," said the founder and director of the Augustine Preparatory Academy in Decatur. "It's time we stop selling out for a bowl of beans. This [charter cluster issue] is so clearly a black-white issue. Woe be upon us if we allow it to happen."
Cunningham said he urged Mayfield not to vote for the cluster petition.
"I would not have voted for the Druid Hills cluster," said Cunningham, who was among five board members removed by Deal after SACS placed the district on probation for governance and other issues. "The cluster idea would have given a free pass to Dunwoody, Tucker, Chamblee, Briarcliff to do the same and would have taken $40 million out of the school system at a time when we can't afford it."