Johnson stands on record, champions two 'signature' bills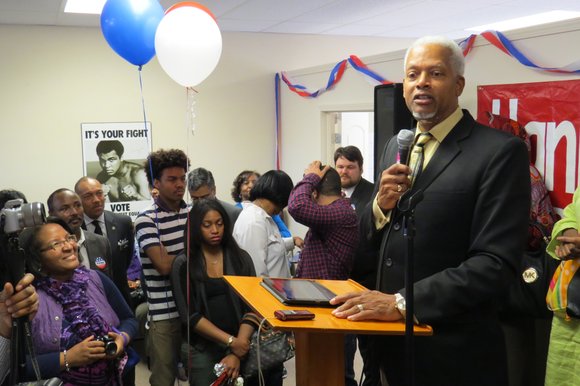 Document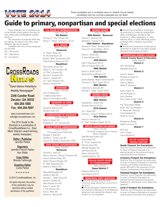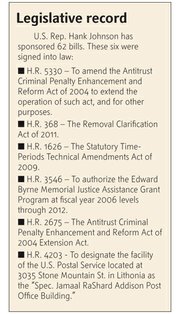 In his almost eight years in Congress, Hank Johnson says he has stood tall for the 4th District, supporting President Barack Obama on key economic and health initiatives and stumping for the 1965 Voting Rights Act when it was being challenged in the U.S. Supreme Court.
In 2012, he made history when no challengers stepped forward. This time, he faces the well-liked former DeKalb Sheriff Tom Brown. With no Republican challenger in November, the winner of the May 20 Democratic primary takes the seat.
Johnson says he stands on his record and that he wants to return to the U.S. House of Representatives for a fifth term to steer through two pieces of "important" legislation – his Arbitration Fairness Act and his Vote Amendment Act – that he has been working on since 2007 when he first got to Congress.
During the 2010 election cycle, he was undergoing experimental treatment for hepatitis C but is healthy again. Johnson said that his fourth round of treatment cleared him of the virus in January 2013.
"I am officially cured of hepatitis C," he said during an April 22 interview. "I am clearheaded, sharp and with seniority."
Johnson's Arbitration Fairness Act seeks to offer protection to consumers and employees who are forced into signing away their rights to resolve disputes in court. His Vote Amendment Act seeks to incorporate more transparency and accountability for electronic voting machines.
Despite strong opposition from the U.S. Chamber of Commerce and the manufacturers of electronic voting machines, Johnson says he is passionate about the two "signature" legislations.
But both bills have yet to get hearings in committees, and support for them has fluctuated with the fortunes of Democrats in the House of Representatives.
Johnson says they are among 62 pieces of legislation that he has filed since arriving in Congress in 2007.
"You will find only one renaming of a post office among them," he said. "My opponent says that I have not passed any 'meaningful legislation' since arriving in Congress. A little research would have shown otherwise."
Johnson said the major difference between him and Brown is that he has a record of public service in the legislative arena, and Brown – whose 28-year public service career as a firefighter, fire chief, public safety director and sheriff – has none.
"I passed my first piece of legislation on the DeKalb County Commission within eight months of being there," said the former District 5 commissioner. "When I was elected to Congress, I had five years and three months on the County Commission. I had established a record of legislative ability. There is a difference in being a legislator and running a jail."
His first legislation was a predatory lending law that was the nation's second, after North Carolina.
With his seniority in the House, Johnson says he stands a chance of chairing a subcommittee of the powerful Judiciary Committee should the Democrats retake control of the House in November. As a trained lawyer and a former magistrate judge, Johnson said his skill set has the kind of breadth that Brown lacks.