King's statue to rise at the Georgia Capitol
Ken Watts | 5/2/2014, 6:02 a.m.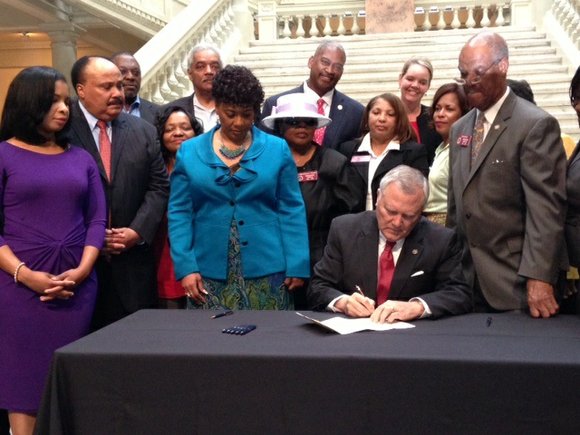 A statue of civil rights icon Dr. Martin Luther King Jr. could rise on the grounds of the Georgia Capitol by the celebration of his 86th birthday on Jan. 19, 2015.
Gov. Nathan Deal signed into law HB 1080 on April 29 surrounded by state Rep. Tyrone Brooks (D-Atlanta), the law's sponsor; King's daughter the Rev. Bernice King and son Martin King III; and SCLC leaders.
Deal said the legislation goes beyond words of praise by placing a physical monument at the Capitol "to commemorate this great Georgian's legacy for many years to come."
"He fought against prejudice and for equality, and he did so peacefully," Deal said. "He spoke eloquently and acted courageously. Every year in January we honor Dr. King, who inspired our nation with his dream of hope, justice and human rights."
Bernice King, who is president of the King Center, said she was honored by the signing and the monument.
"For the state of Georgia to finally give him this kind of honor," she said. "It is well overdue and yet commendable and exciting."
King will be the only African-American so far honored with a memorial on the Capitol grounds. The privately funded project will be led by the Georgia Capitol Arts Standards Commission, which will undertake the statue's design and fundraising efforts.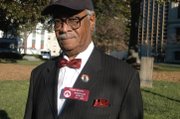 Brooks said the price tag and exact site haven't been determined, but one possible location is beginning to emerge.
The King memorial will be part of a major $17 million facelift to create a "front door" to the Capitol on Washington Street. The projects are the start of renewal of Capitol Hill.
Crews are expected to soon start demolishing a 60-year-old parking deck across from the Capitol to create Liberty Plaza, a public area with green space and enough real estate to hold rallies of more than 3,000 people, and work already has begun on renovating the Great Depression-era Department of Transportation building at the corner of Capitol Square and Capitol Avenue.
Brooks said they are trying hard to make that 2015 deadline to unveil the statue.
"If not then, we certainly hope to have it built before King Day 2016."
When Brooks filed the bill on Dec. 12, 2013, he wasn't sure what to expect, but it sailed through the House and Senate with strong Democratic and GOP support.
Martin King III said April 27 was his late mother's birthday and she would have thought it a great birthday present.
"My hope is that someday, of course, Mom would be beside Dad since she, herself, made a phenomenal contribution – much further along in terms of years because she lived much longer than Dad."
"Rep. Joe Wilkinson [R-Sandy Springs] who co-sponsored the bill with me suggested that the statue of King be placed on the side of the Capitol facing MLK Boulevard," Brooks said. "Wilkinson said on that side, the Dr. King statue 'could point toward Auburn Avenue, site of his church, Ebenezer Baptist, his birth home and the headquarters of the organization that he founded, the Southern Christian Leadership Conference.' I thought that was a great idea."
Brooks said Thursday that the enormity of the accomplishment hasn't sunk in yet.
"I was overwhelmed with emotion about the governor's statement and finally seeing the way cleared for a monument to one of the greatest leaders to ever walk the face of the earth. Dr. King is admired around the world, but this is his hometown."