CrossRoadsNews founders receive Liberty Bell Award
5/9/2014, 6:50 p.m.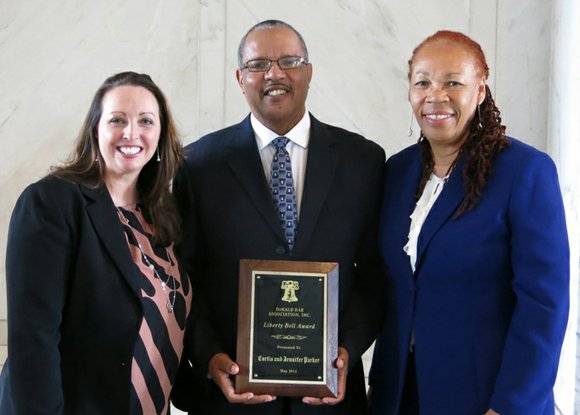 CrossRoadsNews founders Jennifer and Curtis Parker were recognized for outstanding community service by the DeKalb Bar Association on May 8.
The couple, who began their community newspaper in 1995, were presented with the association's 30th annual Liberty Bell Award, given in recognition of Law Day, May 1, to individuals who encourage community members to learn more about and take an active role in the American justice system.
Attorneys Tom Stubbs and Doug Aholt, who nominated the Parkers for the award, said CrossRoadsNews has brought outstanding writing and important information to South DeKalb and East Atlanta.
They said the couple put their livelihood on the line every day to "enlighten and inform the public about important issues for our county and our state."

"At a time when newspapers have shrunk, cut back and gone away, these two have brought news to and elevated debate about our county," the two said in their nomination. "They exemplify the importance of the First Amendment. They attend more community meetings than anyone else in the county and have endured financial hardships that would sink many other businesses."
Jennifer Parker is the newspaper's editor and publisher. Curtis Parker is the company's general manager and director of digital operations.
CrossRoadsNews is published weekly on Saturdays and maintains a robust online edition at www.crossroadsnews.com. The company hosts four informative community expos each year at the Mall at Stonecrest.