Cedar Grove graduate charged in shooting at Paine College
5/9/2014, 12:40 p.m.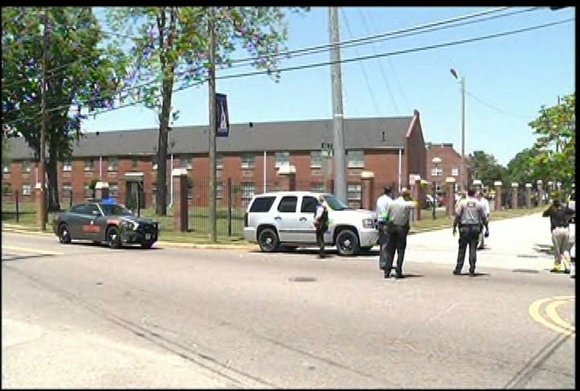 AUGUSTA- Xavier Deanthony Cooper, a 2012 graduate of Cedar Grove High School, is in jail in Augusta facing aggravated assualt and other charges in the shooting of a fellow student at Paine College.
Cooper, 20, was arrested on May 5 and charged in one of four shootings on or near the historically black college.
He is accused of shooting 21-year-old JaJuan Baker of Wilmington, N.C., in the head inside a building at Paine College, about two hours east of Atlanta.
Baker is hospitalized in critical condition but doctors said May 7 that he is expected to recover.
The shooting was the second in two days at the school. It prompted hours-long lockdowns at both Paine College and nearby Georgia Regents University, the site of the Medical College of Georgia.
Xavier, a sophomore business major, had recently relocated to Paine from Morehouse College with hopes of playing football.
His father Anthony Cooper, who lives in Lithonia, said his son received threats on his life since January.
Xavier made his initial appearance in Richmond County Magistrate Court on May 7.
Richmond County Sheriff's Office said said Xavier Cooper was taken into custody after authorities found him in a Paine College dorm.
He was booked into the Richmond County Jail about 11 p.m. Monday. The charges he is facing include aggravated assault, possession of a firearm during the commission of a crime and possession of a firearm on school building, grounds or function.
Cooper said Monday that his son was not involved in the first shooting at Paine College.
"My son was home Sunday and went back to school Sunday," he said. "Now they're trying to link him to that [shooting]."
Cooper said his son has remained in fear for his life because of threats from locals who have developed a beef with a group of Atlanta students.
"These boys were coming to their dorm rooms and saying they were going to kill him," he said.
He said the group of men who threatened his son believed he and his friends were moving in on their drug turf.
"He doesn't sell drugs," he said.
Cooper said he didn't know if his son was responsible for the Monday shooting, but acknowledged that he had been in fights with a certain group before and was trying to protect himself.
"I didn't even know he had a gun or how he got it," he said. "All I know is that he had been protecting himself with a steel pipe."
He said he and his wife have been in constant contact with school officials since their son began having fights at the school.
Speaking at a May 7 briefing, Richmond County Sheriff Richardson Roundtree said the shootings might have started over a "bad drug transaction."
"We don't think this was a random act," he said. "We think it was a targeted shooting."
Roundtree pleaded for witnesses to come forward, saying there was much circumstantial evidence and several possible scenarios. Police offered a $2,000 reward for information leading to a conviction.
Police think more witnesses could help them connect the campus shootings to earlier incidents, like one several months ago where Cooper was assaulted at a business.
Roundtree said he believes there is no longer an active threat, but sheriff's deputies will remain on the campus as the investigation continues. At the investigation's end, the sheriff's office will do a threat assessment to see if other safety measures are needed.
Brown said the school will continue to "move forward with its strategic plan" for student safety.