DeKalb teachers, workers get raise in proposed budget
5/9/2014, 6:03 a.m.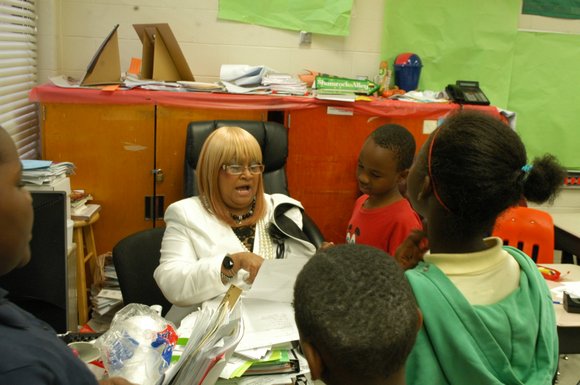 DeKalb's more than 6,100 teachers will get their first pay raises in six years and see the end to furlough days under Superintendent Michael Thurmond's proposed $800 million Fiscal Year 2015 budget.
The proposed budget is up $41 million over FY2014's $759 million budget.
Thurmond presented the spending plan on May 5 at the DeKalb School Board's monthly meeting.
His budget provides a 1 per cent Cost of Living Adjustment pay hike for all employees, eliminates teachers' final four furlough days, increases investments in school safety and academic achievement, reduces class sizes by hiring 100 new teachers and features a $20 million general fund balance or "rainy day" fund.
Thurmond said the budget reflects the strides that the district has made in getting its financial house order.
"We know that there's a tremendous amount of work to be done before we can have a competitive salary structure," he said. "This is a commitment, a downpayment on restoring some of the damage that has taken place."

The budget is based on estimated revenues of $801,547,870, Estimated expenditures is $800,144,877 for the fiscal year beginning on July 1, 2014 and ending on June 30, 2015.
David Schutten, president of the Organization of DeKalb Educators, called the plan "welcome news."
"Even though the Cost of Living Adjustment is just 1 per cent, that sends a big message after we took on six years without any cost of living allowance or step increase," Schutten said Monday.
Just two years ago, during the 2011-2012 school years, DeKalb had a $14.5 million deficit and was forced to cut its teaching workforce.
Fewer teachers meant classroom crowding and complaints from parents and the district's accrediting agency. The Southern Association of Colleges and Schools. SACS put the system on probation and threatened to revoke accreditation after criticizing the millions on spent on legal fees instead of the classroom, which it said had an adverse effect on student achievement. Thurmond, who became interim superintendent on Feb. 8, 2013 in the midst of the turmoil, says the turnaround can be traced to better management of district funds over the past 14 months, improving property tax revenues, and $15.8 million in state funds.
The board cut a significant chunk of its legal debt when it voted on Dec. 2,2013 to accept a $7.5 million out-of-court settlement from Heery International, its former construction management firm, ending a long-running and very costly legal battle. The district fired Heery in 2007, complaining about cost overruns, delays and fraud in its school construction program and spent about $18 million fighting the case.
The new budget would:
n Eliminate four furlough days for employees in all job categories leaving teachers with no furlough days and year-round personnel such as custodial and maintenance workers with at least three forced off days without pay.
n Give students three additional days of instruction on the state minumum 180 days on the school calendar. The district has had a hardship waiver from the Georgia Department of Education to shorten the year by three days.