Humor found in nursing homes
5/9/2014, 12:45 p.m.
"Doc Hollywood" author Neil Shulman will talk about his new book, "Second Wind," on May 12 at the Carter Library & Museum.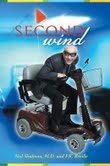 The book, which explores nursing homes and the colorful characters who inhabit them, is co-written with P.K. Beville. It goes inside nursing homes to find hilarious stories.
The reading/book signing, which is free and open to the public, takes place at 7 p.m. in the theater. The Carter Library & Museum is at 441 Freedom Parkway in Atlanta. For more information, visit www.jimmycarterlibrary.gov or call 404-865-7100.