Local poet, violinist entertain crowd at First Ladies Luncheon
5/9/2014, 6:35 p.m.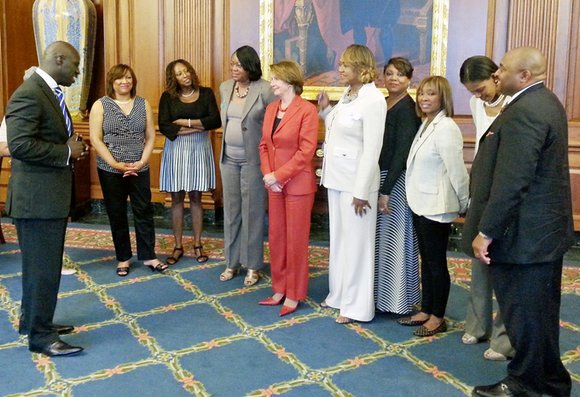 Local poet Hank Stewart and violinist Ken Ford were among artists and performers who entertained first lady Michelle Obama and guests at the May 1 First Ladies Luncheon at the Washington Hilton Hotel.
The local artists made the performers list at the invitation of Mereda Davis Johnson, wife of 4th District U.S. Rep. Hank Johnson.
Davis Johnson was chairwoman of the entertainment committee for the luncheon, which is held annually by the Congressional Club to honor the nation's first lady.
The Congressional Club comprises the spouses of members of Congress. The luncheon provides an opportunity to thank Obama for all her great work with children, military families and fighting the obesity epidemic.
Davis Johnson said Stewart and Ford made quite an impression.
"Needless to say, everyone was blown away by the smooth poetry of Hank Stewart and the electric performance of Ken Ford," she said. "They were great representatives of Georgia and the 4th District and made us all proud."
Stewart said he was still on cloud nine.
"It was such a great honor to perform for Mrs. Obama and all the congressional spouses," said Stewart, who lives in Decatur. "I can't say enough about the incredible hospitality of Mrs. Johnson and the congressman."

He called it a once-in-a-lifetime experience.
"I'm sure I'll be happily telling my grandchildren about this one," he said.
The group, which included Davis Johnson's law partner Genet Hopewell, also toured Washington, including Congress, and got to meet Minority Leader and former House Speaker Nancy Pelosi and other members of Congress.
As she has done for the past six years, Davis Johnson capped off the day by joining the first lady for a community service project. This year they packed Mother's Day gifts for military mothers as part of the First Ladies' Military Families initiative.
"It was a wonderful day for Georgia and the USA," Johnson said.