Sheriff candidates report few personal assets
5/9/2014, 6:30 a.m.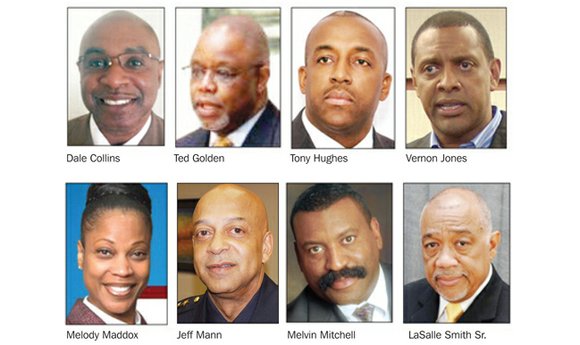 The man or woman who becomes DeKalb County's next sheriff will manage a budget of more than $77.6 million a year, yet most of the eight candidates running for the office report owning very few personal assets.
If their notarized statements filed with the DeKalb Elections Office are to be believed, most of the eight candidates seeking the office own nothing more than the house or condo that they live in.

Ownership of property and investments are not required to run for public office, but because elected officials have purview over millions of dollars of taxpayer money, state election law provides for candidates to declare their real estate holdings, business interests and investment when they run for office and once a year while they serve.
A CrossRoadsNews analysis of the personal financial statements filed by all eight candidates for sheriff – Dale Collins, Tony Hughes, Ted Golden, Vernon Jones, Melody Maddox, Jeff Mann, Melvin Mitchell and LaSalle Smith Sr. – show that most only own the house or condo where they live.
Golden was the only candidate not to have a current financial disclosure statement posted on the county's election Web site. Deborah Christian, elections coordinator with the DeKalb Election Office, said he filed late and paid a late fee of $125.
Late Thursday night, Golden's financial disclosure statement for sheriff was still not on the county's Web site.
The Personal Financial Disclosure Statement, required of all candidates for public office, requires candidates to list all fees or honoraria, fiduciary positions in business entities, ownership interests in any business entity, real estate holdings, investment interests, and annual payments from any state agency that exceed $10,000.
Clark Atlanta political science professor William Boone said the small amount of assets declared by the candidates raises questions about whether candidates are being open.
"Given their status in the community and the stage of their life, you would expect them to own more," he said. "I find it hard to believe that they wouldn't own more."
Boone said that if the candidates don't own a home or investments, it may show that they have little experience in managing financial matters.
Collins, a MARTA law officer, declared a single-family house on Parmalee Path in Conley as his primary residence. He said it was valued between $100,000 and $200,000. He listed no other assets.
Golden's new financial statement was not uploaded on the Web site late Thursday, but in 2008, when he ran for the DeKalb School Board District 9 seat, the federal law enforcement criminal investigator listed owning a primary residence on Rolling Meadows Court in Lithonia.
Incumbent Sheriff Jeffrey Mann listed the most assets of all the candidates. He declared an Atlanta-in-DeKalb condo as his primary residence, a commercial property on Main Street in Lithonia, and a Stone Mountain condo and a single-family house in Decatur, both of which he said are rental properties. Mann listed no business interest or investments.
Hughes lists a three-bedroom residential property worth between $5,000 and $100,000 and two businesses or investments. He did not give an address for his home.