Up to 5,954 seniors lining up for diplomas across DeKalb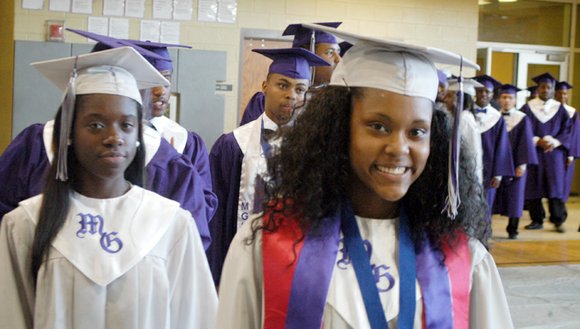 The strains of Pomp and Circumstance are in the air as 5,954 DeKalb County seniors head to graduation ceremonies through May 21.
This year, students will line up for their diplomas and certificates at venues from Hallford Stadium to the Georgia Dome, New Birth Missionary and Greater Travelers Rest Baptist churches, Emory Schwartz Center and the Arena at Gwinnett.
The final number of 2014 graduates who will get high school diplomas was not available at press time Thursday.
The Class of 2014 is being celebrated for achievements that include hundreds of thousands of dollars in scholarships.
This year, the top students, the class valedictorians and salutatorians, boast grade point averages up to 4.2. Sixteen seniors from nine schools, including Clarkston High salutatorian Kim An Ta, got full-ride Gates Millennium Scholarships.
In a year when the School District was removed from probation and claimed the No. 1 and No. 5 spots on the list of the state's top schools, Superintendent Michael Thurmond said that there is much to celebrate.
Thurmond said he is very proud of the class and its accomplishments.
"God bless every one of them," he said Thursday. "And congratulations to all the parents and stakeholders who prayed and supported them."
DeKalb School Board Chairman Melvin Johnson, who will present diplomas to Stephenson and Stone Mountain graduates on May 19, said this is a historic year for graduates.
"This year we are off probation. I am excited about the opportunity they have graduating from an accredited school district."

Johnson said he wants to remind graduates that their departure from high school is only one phase of their development.
"They have done well to graduate. I congratulate all of them, but they must remember that dreams will only be fulfilled if you take action. You must use this as a steppingstone to pursue goals and dreams."