Activity brisk as election season winds down
5/16/2014, 2:16 p.m.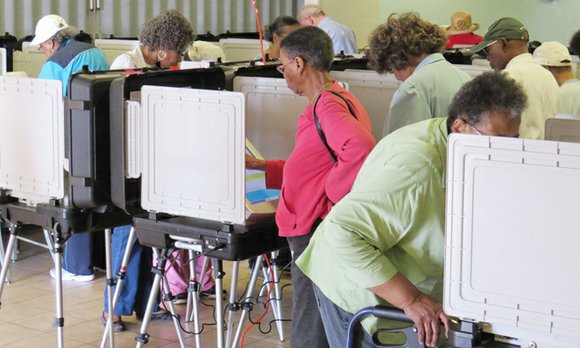 DeKALB COUNTY — DeKalb voters will head to the polls on to May 20 to vote in primary, nonpartisan and special elections.
The county has 455,716 registered voters but turnout is expected to be 25 to 30 percent.
Through May 14, only 10,696 people had made it the early polls that opened April 28.
The last day to vote early was May 16.
Among the hot local DeKalb County races are the 4th District contest between incumbent Congressman Hank Johnson and former DeKalb Sheriff Tom Brown, the special election for DeKalb Sheriff and the races for all seven DeKalb School Board seats.
Incumbent DeKalb Commissioner Stan Watson is facing a challenge from Stone Mountain police officer and pastor Gregory Adams, and 24-year state Rep. Michele Henson is facing Jacqueline Adams in the race for the House District 86 seat.
Other incumbents facing challenges are state Reps. Ernest "Coach" Williams and Dee Dawkins Haigler, and Sen. Gloria Butler.
Williams is being challenged Ivy Green; Haigler by Diane Adoma, and Butler by Mark Anthony Williams.
With eight candidates vying for sheriff, and five contenders for the District 5 School Board race, election watchers are anticipating a runoff, which is scheduled for July 22.
All neighborhood polling precincts will open 7 a.m. to 7 p.m.

Voters should bring photo identification to the poll. Acceptable IDs are a Georgia driver's license, even if expired; valid U.S. military or tribal, state or federal-issued photo ID; a valid U.S. passport, or photo ID from any branch, department or agency of any county, municipality, board or authority of the state.
You can check your registration status and find your polling precinct at http://mvp.sos.state.ga.us or by calling 404-298-4020.