Fatal shooting of baby linked to earlier killings
5/16/2014, 2:30 p.m.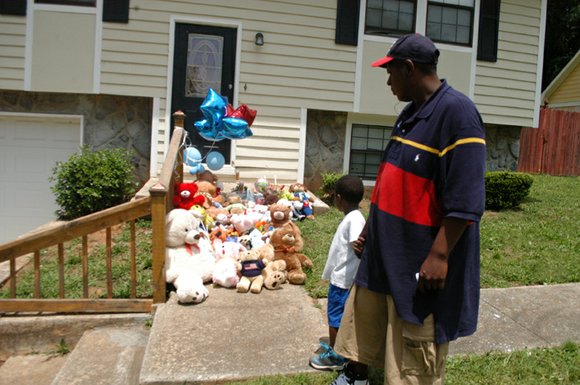 A string of gun violence in Stone Mountain culminated May 10 in the death of a 9-month-old baby boy.
The baby, Kendarius Edwards, died of a gunshot wound during a home invasion that critically wounded three women, including one who is four months pregnant.
DeKalb Police say three or four men with their faces covered with bandanas kicked in the back door of the house on To Lani Farm Road about 10:30 p.m. The terrified women grabbed the baby and locked themselves in an upstairs bathroom, but the gunmen kicked in the door and fired at the victims at close range. The infant was rushed to the hospital but did not make it.
The women, whose identities have not been released, are ages 36, 23 and 21. They are expected to survive. The 21-year-old is believed to be the baby's mother.
The attack was the third in a chain of fatal shootings beginning on May 3. Police say it may have been retaliation for one of the earlier incidents.
Residents along To Lani Farm Road say they are alarmed by the increasing violence in the neighborhood off Redan Road over the past year.
Neighbor Eric Crumbley, who had stopped by a growing memorial of stuffed animals and flowers on the steps of the house on Wednesday, said a baby's death is hard to take.
"That doesn't make any sense," said Crumbley, who had his 4-year-old son, King, with him. "A 9-month-old hasn't done anything to anybody."
Investigators believe that the shooting may have been related to a fatal shooting on May 3 in which a man named Michael Phillips was killed.
In that incident, police responded to the Mountain Lake Apartments on North Hairs­ton Road in Stone Mountain. Authorities believe that shooting began with a brawl when uninvited guests arrived at a party in the complex.
Police arrested Kemontae Cullins, 18, in connection with the May 3 shooting. They say 16-year-old Cutrez Johnson and 19-year-old Oslushla Smith are considered persons of interest in the May 3 shooting.
Police say Smith and Johnson had either lived in the To Lani Farm Road house where the baby was killed or had connections to it.
On May 10, police received an anonymous phone call about a dead woman in Decatur. Investigators believe that woman, 19-year-old Alexis Malone, was a witness to the May 3 shooting and may have been lured to a park on Agape Way in Decatur by Kayla Dixon, a witness to the May 3 attack.
Dixon made her first court appearance on Wednesday in DeKalb Magistrate Court. She is charged with murder in the park shooting. Her arrest warrant says she persuaded Malone to go to the park on May 10 with Smith, Johnson and Cullins, knowing Malone would be killed. The teen was hit in the head with a brick and shot several times.
Smith, who appeared with Dixon in court, also is charged with two counts of murder in the park attack. His warrant accuses him of firing the fatal shots in the Malone case. He also is charged in the slaying at the party.
Police had not arrested any suspects in the baby's death by press time Thursday.