Four candidates for DeKalb sheriff loan $61,665 to war chests

Four of the eight candidates seeking the high-profile DeKalb Sheriff's Office top job have loaned themselves $61,665 in pursuit of the office that manages an annual budget of $77 million.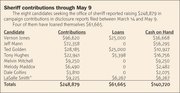 In campaign disclosures filed with the DeKalb Election Office between March 14 and May 9, incumbent Jeff Mann and his challengers – Dale Collins, Ted Golden, Tony Hughes, Vernon Jones, Melody Maddox, Melvin Mitchell and LaSalle Smith – say they collected a total of $248,879 in campaign donations.
Jones, a former DeKalb County CEO, and retired federal agent Ted Golden accounted for the bulk of the loans. Each reported loaning $25,000 to their campaigns.
Smith and Hughes accounted for the rest of the loans. Smith reported a loan of $6,267, and Hughes, $5,398.
Jones collected the most cash, $96,620, followed by Mann, who reported contributions of $72,358.
Golden reported $28,185 in contributions. Hughes reported netting $22,941, and Mitchell, an Atlanta Police officer, reported campaign donations of $9,250.
Smith, owner of a security business, reported contributions of $9,225, and Maddox, the only woman in the field, reported contributions of $6,490. Collins, a former DeKalb sheriff's lieutenant, raised the least, $3,810.
Even though he is in a special election for sheriff, Jones reported collecting campaign contributions for the primary race.
In a May 5 email responding to questions from CrossRoadsNews about the discrepancy, Jones said:
"There has been some confusion regarding this election, including how can someone having incumbent status and never been elected. We are researching your question and will respond immediately."
He never offered an explanation and through press time Thursday had not filed an amended report.
Some donors exceed limits
For local races, the Campaign Finance Act sets the maximum campaign contributions per person at $2,500 for primary and local elections and $1,300 for primary and local election runoffs.
Jones attracted the largest single donations. He reported 11 contributions of $2,500. Some of his donors also exceeded the maximum contributions limit per election.
His biggest contributors, Jarrett S. & Rebecca L. Gorlin Family Ltd. Partnership and Jarrett Gorlin, owner of Tag Aviation, who both listed the same Sandy Springs, Atlanta, address, gave him a total of $7,600. The contributions were split evenly between the company and the individual. Each gave $3,800 on Jan. 17 and 22.

Stephen Been, who built a lot of homes in DeKalb County during Jones' CEO administration, also gave him $3,800 on Feb. 25. Been now lists his company as Atreus Homes, located in Atlanta.

Jones also got $2,500 contributions from Peyton Stanley of Gold Dome Link Inc. in Atlanta; Lawrence Nelson of Lang Construction Services in Tucker; Richie Kitrell of Helicopter Express Inc. in Chamblee; John Hopkins of Prostar Management of Youngsville, N.C.; Nishita Patel of McDonough; Benjamin Peasant of Bottom Line and Associates of Washington, D.C.; and West End Discount Pharmacy in Atlanta.
West End Pharmacy also gave Jones $1,300 on March 12, and its sister company, Candler Pharmacy, also gave him $1,300 for a total contribution of $5,100.
Mann received four contributions of $2,500 each from Fausto Urrutia, a Douglasville sales accountant; Jesus Diaz, listed as self-employed in Atlanta; Robert Blazer, listed as self-employed from Gulf Breeze, Fla.; and Barbara Blazer, self-employed from Decatur.