Incumbents Watson, Henson stand on their record of public service
5/16/2014, 5:13 p.m.
DeKalb Commissioner Stan Watson and state Rep. Michele Henson are two of the county's long-serving elected officials.
On May 20, voters will have to pick between them and two opponents, Stone Mountain couple Gregory and Jacqueline Adams.
Watson, who first entered public office in 1996 as a state representative from South DeKalb, is the incumbent Super 7 commissioner representing the eastern half of the county. He was elected to the Board of Commissioners in 2010 after an unsuccessful run to be DeKalb CEO in 2008.
Henson was first elected to the Georgia House in 1994 and is the longest continuously serving member of the DeKalb Delegation.
Both say they stand on their record of public service.
Watson, who celebrates his 60th birthday on May 17, says he wants the voters to remember his service when they go to the polls.
"I have a heart to serve," he said. "Yes, I get tired sometimes, but I keep going because I want the county to get better."
He also wants voters to remember that he has experience in the state Legislature and knows how to mesh it and the County Commission to better serve the community.
Watson says that despite what his opponent says, he has always been accessible and that he regularly attends meetings in the four cities in his district – Lithonia, Pine Lake, Stone Mountain and Doraville – and numerous community meetings.
He also points to his monthly First Saturday Community Breakfast that he has hosted 10 times a year for 17 years and the seven community cleanups he sponsors annually.
"I am not afraid to roll up my sleeves and go to work," he said.
Watson chairs the DeKalb Board of Commissioners' Public Works Committee that oversees the county's $1.35 billion Capital Improvement Plan that is overhauling its water systems.
He said he has championed the Tucker, Stone Mountain and East Metro Community Improvement Districts and has been doing double duty covering his district and District 5 that has been without full representation since Commissioner Lee May was appointed DeKalb interim CEO.
If he is re-elected, Watson said he will continue to push for economic development in the district.
Specifically, he wants to work with the DeKalb School System to build a civic center in the Stonecrest area so DeKalb high schools don't have to go outside the county to hold their graduation ceremonies and so that the county can attract large events. He also would like to see the county go after the Braves Double A Farm Club for its Southeastern Athletic Complex on Covington Highway and build a sound stage to film TV commercials and movies.
'I want to see my area get better'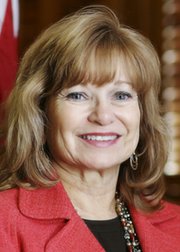 After 24 years in the Georgia House, Henson says she still wants to keep serving.
"There is still a lot of things to work on to make the county better," she said.
Henson, who has lived in the same house in Stone Mountain for 35 years, says there has been decline in the county.