Learn more about candidates courting your vote
5/16/2014, 6:45 p.m.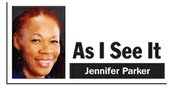 As we head to the polls on May 20 to select the people who will manage our school district and jail and represent us in Congress, at the state House and on the County Commission, let's pick carefully.
Choosing our elected officials isn't a popularity contest. It shouldn't be based simply on name recognition or on who has money to buy the biggest and most signs.
As we have found out quite painfully in DeKalb County, if we don't choose carefully, we end up with people at the helm who have no vision for the county, no plan to get us into the future, and a county in decline.
We live in an age where information is readily available. As voters we should take the time to find out as much as we can about our candidates, and we should question them about their qualifications and backgrounds. And when we encounter discrepancies in their public disclosures, we should hold them accountable.
After 20 years of covering politics in our county, I am struck this election season by the high incidence of candidates who are hiding behind post office boxes, have not bothered to file disclosure reports, and some who may have even lied on their reports.
If we elect them and they proceed to mess up, are we going to look for them in a postal box?
If you want privacy, don't run for public office.
If you run, your address is public information. And yes, we expect you to declare your assets truthfully.
If you don't want to do that, you have a choice: Don't run for office.
In our May 10 front-page story about the personal financial disclosure reports, it became clear that not all of the candidates had reported all of those holdings. In one case, former CEO Vernon Jones even reported owning a property that he sold in August 2001.
We would have taken his statement at face value but for the fact that he did not check the box that asked for the value of the property. In searching for the county's assessed value of the property, the Tax Commissioner's Web site showed that he had sold the property.
So it was no "overt and over-the-top scrutiny of Vernon Jones versus any other candidate for public office reporting" that led to that finding.
Had Jones checked the box, we might not have discovered that he no longer owns any property in DeKalb County – at least not in his name.
Some candidates also have not reported all of their expenditures.
Around the county, you see large signs and billboards, and multi-page mailers show up at your home, but none of the cost is reported on their expenditures, or their level of expenditure clearly exceeds the amount of campaign contributions they have reported.
We know that it is easy to shirk the law and pay the paltry fines, but is that really the message we want to send the voters?
Falsifying information on disclosure reports is a crime. But even more importantly, it speaks volumes about the character of the person attesting to the information in front of a notary public.