Senate District 42 hopefuls stump as a progressive voice
Ken Watts | 5/16/2014, 4:36 p.m.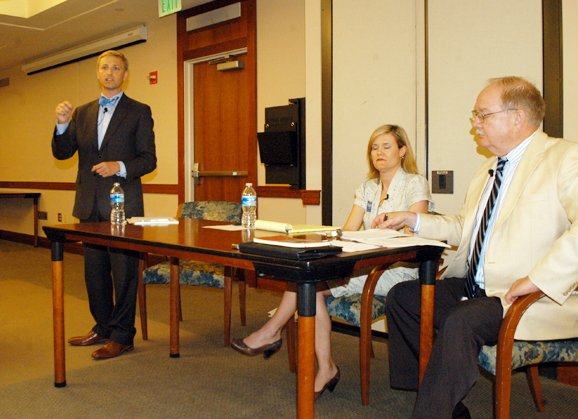 Attorney Kyle Williams and nonprofit executive Elena Parent are vying to replace Sen. Jason Carter in District 42.
At a May 6 forum at Agnes Scott College, the two Democrats sought to convince voters that they would be a stronger progressive voice for the district that stretches from Buford Highway to the north, Candler Park to the west, East Lake to the south, and Decatur to the east.
Parent, who lives in Chamblee, is a former state representative who unseated a Republican in 2010 to take the House District 81 seat.
She left the House in 2012 rather than run against her friend and former law firm co-worker, state Rep. Scott Holcomb (D-Atlanta), after Republicans redrew the political map and combined their districts.
If she wins the seat on May 20, Parent said that after electing Carter governor in November, she intends to champion a number of issues.
"We're going to go down to the Capitol and fully fund the school year, fully fund and expand pre-k, raise the minimum wage and expand Medicaid and I can do all that with your help," she said.
Williams, who works with a Decatur law firm that handles land use issues, is a veteran community activist.
He has served on the city of Decatur Planning Commission, Zoning Board of Appeals, and Zoning Rewrite Task Force; on DeKalb CEO Burrell Ellis' transition team; and on the board of the Decatur Education Foundation.
The 10-year Decatur resident ran unsuccessfully for the Decatur City Commission District 2 in 2009. If elected, he would become the state's first openly gay male senator. Williams wants to continue District 42's long tradition of progressive advocacy on issues such as education, civil rights, marriage equality, and the environment.
"This district has a place at the table to be a progressive advocate and to be a voice and not just be a vote," Williams said. "This district has a position to speak up and say that gutting our schools is unacceptable, disrespecting our teachers is unacceptable, listening to politicians as opposed to our own educators, scientists and our own doctors is unacceptable. That's why I'm running."
Both candidates are well-funded headed into the primary. As of March 31, Parent had the edge with $140,965.19 cash on hand to Williams' $104,464.51. Parent has received endorsements from more than a dozen state lawmakers and DeKalb County officials. Williams' campaign has taken a more door-to-door approach, shaking hands with local residents and talking to community leaders.
"We'll build the grass-roots support to win this," Williams said. "Don't get distracted by who's supporting who – what matters is who turns out on Election Day."