Seven to attend U.S. academies
5/16/2014, 6 a.m.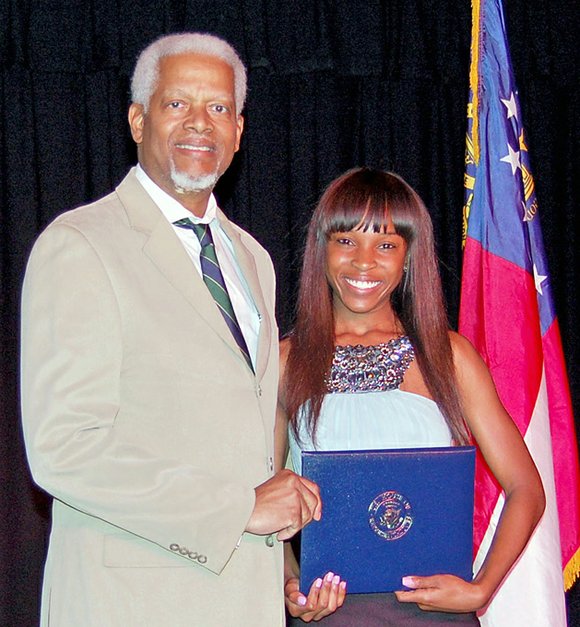 Stephenson High 2014 graduate Darien Johnson is on her way to the U.S. Air Force Academy in Colorado Springs, Colo., with a scholarship that is worth about $250,000.
Darien was one of 14 seniors from the 4th District nominated this year by U.S. Rep. Hank Johnson. So far, seven of them have received appointments to attend a service academy – Military Academy (West Point), Naval Academy, Air Force Academy, Coast Guard Academy, and Merchant Marine Academy.
Since 2007, Johnson's nominees have been awarded more than $13 million in service academy scholarships.
Johnson, whose district includes portions of DeKalb, Rockdale, Newton and Gwinnett counties, said making the nomination is easy, but it is a long, difficult road to secure the appointment.
"All of our outstanding nominees possess the kind of leadership skills necessary to be successful in school, business and in life," he said.
"Graduating from a service academy ensures a good career after graduation and opens doors for the rest of their lives."
The other seniors receiving appointments to military academies are Chamblee High's Xavier Hightower to the U.S. Naval Academy; Newton High's Brendan Brown to the U.S. Naval Academy; Creekview High's Benjamin and Jack O'Donnell to the U.S. Merchant Marine Academy; and Parkview High's Shaquille Vereen to the U.S. Air Force Academy and Jonathan Stoves to the U.S. Naval Academy.
Students receive a Bachelor of Science degree, are commissioned as second lieutenants, and serve in the military for a minimum of five years.
Each year, members of Congress may nominate up to 10 candidates per opening. Service academies usually make appointments by March 31 of each year.
For more information about the nomination process, visit hankjohnson.house.gov/serving-you/military-academy-nominations or call 770-987-2291.