Stone Mountain couple seeking to unseat Watson and Henson
5/16/2014, 5:15 p.m.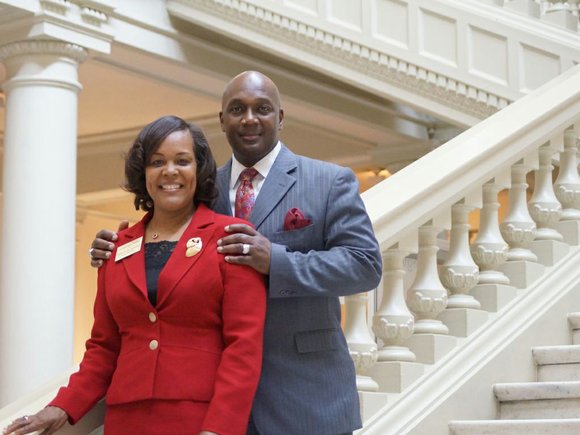 Stone Mountain couple Gregory and Jacqueline Adams are seeking seats on the DeKalb Board of Commissioners and in the Georgia House of Representatives in the May 20 primary election.
They are the only couple on the ballot, and both are challenging well-liked and entrenched elected officials.
Gregory Adams, who shares the same name of a well-known DeKalb Superior Court judge, is challenging Super District 7 Commissioner Stan Watson. His wife is up against 24-year state legislator Michele Henson.
The Adamses, who are pastor and first lady of Deliverance Temple Tru COGIC in Austell and hold leadership positions in the denomination, are unfazed by the stature of their opponents. They have lived in Stone Mountain for 23 years and say they are running to help revitalize the area.
Gregory Adams, who ran for DeKalb CEO in 2012, said he is opposing Watson, whom he once supported for the District 7 seat, because he is dissatisfied with the way he is managing the district.
"I supported him in 2010 because I thought he would do a good job but he hasn't," Adams said. "But Stan has never been in my community. He is missing. He is absent. That's it in a nutshell."
Adams, who is an Emory University Police officer and a former DeKalb Police officer, said Watson and the other commissioners have allowed communities to form cities because residents are tired of taxation without representation.
He says the residents want clean government and more than a monthly breakfast meeting. If he wins the seat, Adams says he will focus on safety and be visible all across the district that covers half of the county from north to south.
"When I moved here 23 years ago, DeKalb was a vibrant county," he said. "Now, it is dilapidated houses, abandoned buildings and two many houses that are vacant. The main issue to tackle is economic development."
Adams said that residents should pick him on May 20 for positive change.
"I am the 'three P' guy," he said. "I am a preacher, police officer and politician. I left the comforts of the pulpit to hit the pavements to serve the people. As an elected official, I will be serving the people."
Challenge to longtime legislator
Jacqueline Adams says she is running for the District 86 House seat to bring representation to the district.
She says that Henson, the longest continuously serving member of the DeKalb Delegation, has been absent and inaccessible to constituents.
"We have taxation without representation," Adams said. "She never responds to telephone calls or emails. She may do a good job at the Capitol but we don't hear about it."
Adams, who owned a hair salon on Gresham Road for 23 years and a non-emergency transportation service for five years, said small businesses need help and she wants to champion them and children's issues in the Legislature. She says she has watched Memorial Drive decline as businesses such as Marshall's, TJ Maxx, Publix and numerous shops in the Memorial Bend shopping center close and no one did anything about it.
"I want to be your eyes and ears in the district," Adams said. "I want to represent my community. I want to do economic development. I want to work with our commissioners and the Legislature to build up the neighborhood."