Low turnout on election day
Ken Watts | 5/20/2014, 6:27 p.m.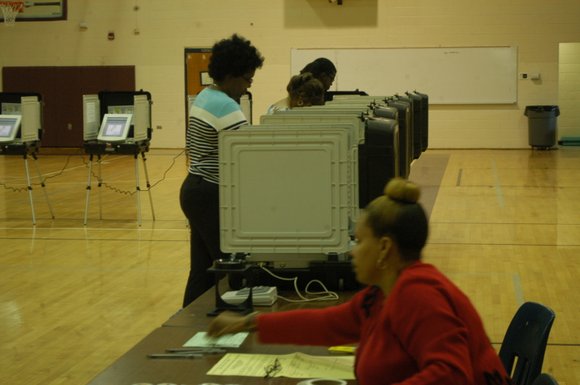 Few voters in DeKalb cast ballots in several high stakes primary, nonpartisan and special elections Tuesday. Turnout was low through much of the day, with only 19,634 DeKalb voters taking part as of 4:00 p.m. Tuesday. Polls were open until 7 p.m.
"About a third of the county's 189 precincts have not reported turnout yet, so we're hoping the totals improve," said Mary Frances Weeks, who monitors voter statistics at the Office of Voter Registration and Elections.
Some residents voted early. More than 16,000 took advantage of the advance voting period from April 28 through May 16.
But DeKalb has 455,716 registered voters and turnout was predicted to be only 25 to 30 percent.
Among the hot local DeKalb County races were the 4th District contest between incumbent Congressman Hank Johnson and retired DeKalb Sheriff Tom Brown, the special election for DeKalb Sheriff and the races for all seven DeKalb School Board seats.
A lot is at stake. The DeKalb School System is on solid financial ground after years of budgetary instability. The district fought its way off accreditation probation over the last 14 months and is trying to regain full accreditation and improve student performance.
The Sheriff's Office will have someone other than Brown at the helm for a full term for the first time in 14 years.
Incumbent DeKalb Commissioner Stan Watson faces a challenge from Stone Mountain police officer and pastor Gregory Adams, and 24-year state Rep. Michele Henson is facing Jacqueline Adams in the race for the House District 86 seat.
Other incumbents facing challenges were state Reps. Ernest Coach Williams and Dee Dawkins Haigler, and Sen. Gloria Butler.
Williams is being challenged Ivy Green; Haigler by Diane Adoma, and Butler by Mark Anthony Williams.
With eight candidates vying for sheriff, and five contenders for the District 5 School Board race, election watchers are anticipating a runoff, which is scheduled for July 22.