DeKalb remembers fallen heroes at Memorial Day program
Ken Watts | 5/23/2014, 3:47 a.m.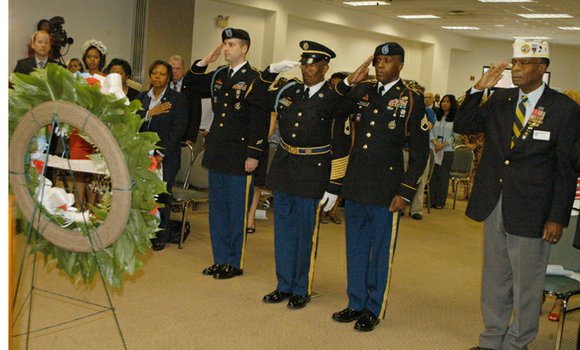 As friends and family gather around grills in the backyard to celebrate Memorial Day on May 26, retired Brigadier Gen. Denis L. Shortal wants them to "stop and remember" the servicemen and women who made the ultimate sacrifice for their country.
Shortal, a highly decorated Marine aviator who flew more than 300 combat missions in the Vietnam War, said he remembers comrades lost in battle.
"I can see their faces just like it was yesterday," he said May 22 during DeKalb County's annual memorial ceremony at the Maloof Auditorium in downtown Decatur.
"They were men who stepped forward. They will never grow old. They will remain forever young."
Shortal, now a Dunwoody city councilman, helped kick off the Memorial Day holiday weekend observances with DeKalb's leaders, citizens and members of the Veterans Affairs Advisory Board.
After stopping to remember the fallen, Shortal said Americans should enjoy the pleasures of the weekend.
"We should go out to a parade, go to a picnic, a ballgame, have a cool beverage, a hot dog, a hamburger," he said.
"Have some fun. Dance. Laugh. Because, you see, that's why they gave their lives. They gave their lives so that you and I could enjoy our freedom to the fullest."

The ceremony, attended by war veterans from all branches of the armed forces, included a color guard from the Decatur High School Jr. R.O.T.C. and wreath laying.
Ten recruits from Miller Grove and Cedar Grove high schools who recently signed up for military service marched up to the front of the auditorium to a round of enthusiastic applause.
Interim CEO Lee May praised the memory of the fallen service members.
"Public service pales in comparison to our military heroes who put their lives on the line for us," he said.
Participants remembered Army Spc. Jamaal R. Addison of Lithonia, who was the first Georgian to die during Operation Iraqi Freedom in 2003.
Patricia Roberts, Addison's mother, told the rally that she is honoring her son's sacrifice by helping to establish a scholarship in his name at all campuses of Georgia Perimeter College.
"The fund will provide $500 to a GPC student veteran in the spring and fall semesters of each year beginning with the fall semester of 2015," she said.

Donations for the scholarship fund honoring Addison can be made at giving.gpc.edu.