Derwin Brown's son jailed on pot growing charges
5/23/2014, 6 a.m.
Michael Gerrard Brown, son of assassinated DeKalb Sheriff-elect Derwin Brown, is being held without bond in the Gwinnett County Jail, charged with running a drug manufacturing ring that had more than 650 marijuana plants in three separate grow houses in Snellville and Dacula.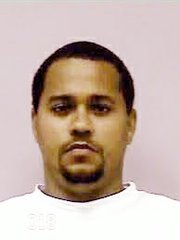 He was arrested May 15 at a home on Hidden Lane in Snellville after police found 414 marijuana plants. Police say Gwinnett Metro Task Force investigators were following up on information that there might be drugs at the home when they encountered Brown and a strong odor of marijuana. Further investigation led officers to two additional houses, Brown's primary residence at 3016 Overlook Hill Pass in Dacula and a third leased by Brown, at 3466 San Antonio Drive in Snellville.
A search of the houses resulted in the seizure of an additional 251 plants, a small amount of loose pot, suspected narcotics and a partially dismantled grow room. Brown was charged with felony possession of marijuana with intent to deliver.
His father was elected sheriff in 2000 but was assassinated in front of his home three days before he was to take the oath of office. Outgoing Sheriff Sydney Dorsey was sentenced to life in prison for ordering his death.
Michael Brown's next court hearing is set for May 29.