Johnson re-elected; Mann in runoff for sheriff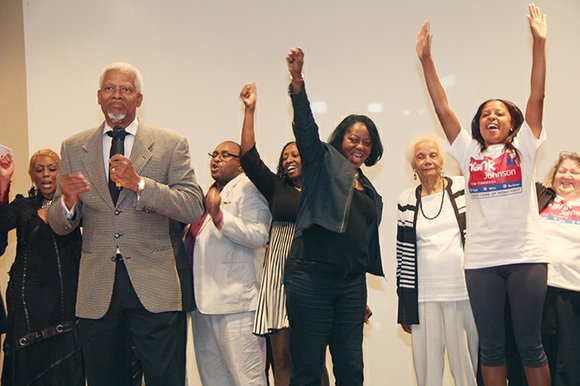 Congressman Hank Johnson is going back to Washington for a fifth term, while incumbent Sheriff Jeff Mann and three appointed School Board members will face challengers in July 22 runoffs.
During the May 20 primary, nonpartisan and special elections, voters were kind to incumbents, returning most of them to office with large percentages.
In a hard-fought race for the 4th Congressional District, Johnson led former DeKalb Sheriff Thomas Brown with 54.8 percent of the vote.
In the sheriff's race, Mann had 39.9 percent of the vote to former DeKalb CEO Vernon Jones' 22.3 percent.
As expected, voter turnout was low across the county and the state. In DeKalb, only 78,531, or 20.1 percent, of the county's 389,998 registered voters cast ballots. Included among those voters were 16,041 people who voted early or cast absentee ballots.
Statewide, only 984,382, or 19.5 percent, of Georgia's 5,040,952 voters cast ballots. Among those were 239,281 people who cast early or absentee ballots.
Johnson, who was first elected to the 4th District in 2006, said the district has confidence that he will continue to represent them and to join President Barack Obama and his colleagues in Congress to make sure that America lives up to its promise of freedom, prosperity and dignity for all.
He said the vote means that the 4th District has high expectations of him.
"It means that by a wide margin the citizens of the Fourth District decided to send me back to Washington to continue the work that needs to be completed," Johnson said late Tuesday night after claiming victory before a crowd of about 200 that included Atlanta Mayor Kasim Reed, state Sen. Ron Ramsey, DeKalb Commissioner Sharon Barnes Sutton, and radio personality Sasha the Diva.
Johnson said he was going to grab a couple of hours of sleep and head back to D.C. on Wednesday.
"I don't want to miss any more votes," he said. "I got work to do. I am on the clock."
Brown, who retired from the Sheriff's Office in February to challenge Johnson, said he was proud of the race he ran.
"At the end of the day, I didn't give the people a good enough reason to make a change," he said.
Brown said he is going to rest, travel and enjoy his new grandson.
He said he wasn't sure if he was done with politics.
"I never say never," he said. "I'm leaving for now, but I'll be watching."
Mann, the incumbent sheriff, will face Jones in a runoff election on July 22. From a field of seven challengers, he got 39.9 percent of the vote. Jones with 22.3 percent got the second highest total.
Brown appointed Mann, who worked alongside him in the Sheriff's Office for 14 years as his chief assistant and chief deputy, to succeed him in February. But because Brown had more than two years left on his term, a special election was called.
Three School Board runoffs
In the School Board races, only one of Gov. Nathan Deal's four appointees seeking election for the first time won outright on Tuesday. Dr. Joyce Morley, who had two challengers, claimed her District 7 seat convincingly with 61.3 percent of the vote.